Various Artists
Century Media — Covering 20 Years Of Extremes
(Century Media)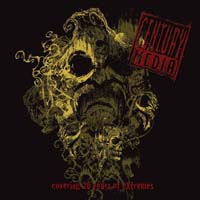 It's not fair, but to review Century Media's 20-year celebration, in which the renowned metal label has former and (mostly) present-day acts cover other former and present-day acts, inevitably turns into more a critique of the label's current place in heavy metal than it does the two hours of music packed into these two CDs.
Name an influential extreme metal band, and chances are it called Century Media home at some point. Pentagram, Opeth, Marduk, Exodus, Iced Earth, Mayhem — just a few. There was a time when the company's logo on the back of a album was enough in itself to warrant checking out the CD inside the jewel case.
Sadly, things are hit-and-miss on CM today, and as painful as it is to say, more miss. Bad metalcore (Winds Of Plague), second-rate second-generation thrash (Warbringer), boring hard rock (Brand New Sin), and robotic death metal (Divine Heresy) have it in a slump. That's not to say they can't still occasionally hit one out of the park (name a better metal record this year than Nachtmystium's Assassins; many metalheads think The Haunted's recently released Versus is its best work yet), only that the slugging percentage dips every year.
See, there we go — reviewing the label's current roster instead of celebrating its two decades in the biz. 20 Years Of Extremes couldn't get off to a much stranger start than Arch Enemy doing Dream Evil's "The Book Of Heavy Metal." The match, on paper, is terribly incompatible, but somehow vocalist Angela Gossow and her bandmates pull it off wonderfully ("the only thing I want/is what my parents don't!"). Fredrik Nordström and co. return the favor by recording AE's pre-Gossow "Let The Killing Begin" and giving it the right "gay" sound, Nordström jokes in the liner notes (each band explains why it chose its particular song). There's not much in the CM catalog suitable for label newbies Fu Manchu (last year's We Must Obey was the group's first for Century Media), but Penance's "Words To Live By" was probably the best choice, except for maybe Eyehategod's "Dixie Whiskey," which gets handled (appropriately) by Intronaut instead.
When Iced Earth, Strapping Young Lad, Bloodbath, Nevermore, Grave, and Celtic Frost are all represented, there isn't much to complain about, song-wise. As far as who is doing the representing, though? Only a few true heavy hitters from CM's storied history participate: Napalm Death (twice), Grave, Dark Tranquility, and Asphyx being the most prestigious. Why isn't Opeth doing Dark Tranquility's "Monochromatic Stains" instead of The Agonist? No Blind Guardian? Hell, there's two versions of Gorgoroth out there and neither could find any spare time? Was Nachtmystium asked to participate? Even Century Media's biggest band, Lacuna Coil, is a no show ("Heaven's A Lie" is covered by Manntis featuring In This Moment's Maria Brink). Of course, nobody worth his Hellhammer demos considers LC "extreme," but anymore, the same can be argued about the label as a whole.
6
— Trevor Fisher