Omara Portuondo
Gracías
(Montuno/World Village)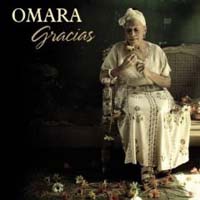 So, she has gone a little soft. Can you blame her? Omara Portuondo stuck it out for decades as Cuba's starlet, and even smiled pretty when Ry Cooder dragged her back into the spotlight for Buena Vista Social Club.
In fact, the title, Gracías, can be read as Portuondo thanking her fans for letting her take this break, a baker's dozen strolls through soapy ballads. The effort and inflection suggests she could have recorded this album in her sleep, though the partly Brazilian influence could be to blame for that. "Yo Vi," "O Que Será," and a duet with her granddaughter called "Cachita" fail to distinguish themselves in the 78-year-old's catalog, careening into the adult contemporary blahs. A collaboration with Chucho Valdes on "Nuestro Gran Amor" ensures the collection isn't without its gold, but Gracías is more for her than us.
4
— Steve Forstneger