The Herbaliser
Darkroom, Chicago
Tuesday, November 18, 2008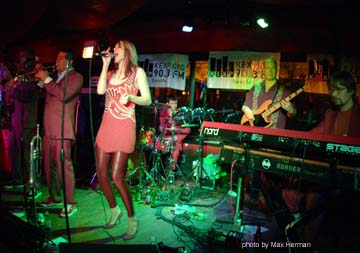 London's The Herbaliser don't make it across the pond to play very often. But in support of their latest album, Same As It Never Was, this hip-hop-rooted collective, led by Jake Wherry and Ollie Teeba, stopped by The Darkroom as part of a rare North American tour.
Renowned since the '90s for their downtempo and sometimes-cinematic soundscapes, The Herbaliser opted to change gears in 2008 by adding old-school soul/funk revivals to their growing repertoire. While they have always summoned MCs like Jean Grae to complement their tracks, for Same As It Never Was, adding their first official vocalist, Jessica Darling, proved to be the most significant move the group have made in awhile. The young, 22-year-old's robust resonance is no doubt impressive on The Herbaliser's latest LP, but live onstage is where her presence really comes alive.
Though the lively, horn-heavy funk of new tracks like "Clap Your Hands" or "You're Not All That" sounds just decent on record, they become amazing in person. Darling effortlessly commands the room and her six bandmates clearly fed off her energy, whether bassist/producer Wherry or trumpeter Ralph Lamb. Unfortunately, Darling was only utilized for about half of the show. When she left, the atmosphere changed considerably. Without her, The Herbaliser were less livelyand lacked leadership.
When playing some of the better instrumental tracks off the album like the spy flick-esque "Blackwater Drive," everyone except the outspoken Lamb fell back into an ultra-mellow state. Given the lounge-like venue, the vibe wasn't completely inappropriate and every player was generally on point. But it wasn't easy to get used to the calm after the electric renditions with Darling. When she came back for a charged encore, the vibe felt right and the powerhouse vocalist certainly solidified her relevance as part of The Herbaliser.
— Max Herman
Category: Live Reviews, Weekly