Jeremy Enigk | Alex Chilton
Bottom Lounge | Old Town School Of Folk Music, Chicago
Wednesday, December 3 | Saturday, December 6, 2008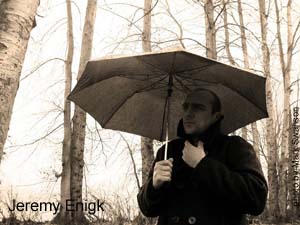 Jeremy Enigk hasn't willed himself into obscurity quite the way Alex Chilton has, but as the former frontman of a beloved, obsessed-upon cult band his legend far outstrips his draw.
Like Chilton, you could argue Enigk was always ahead of his time. In Sunny Day Real Estate, he helped (for better or worse) establish modern emo for '90s kids tired of grunge rock's chest-beating, cretinous stomp. Alternately obtuse and anthemic, the band imploded upon Enigk's sudden devotion to Christianity after only two albums, a single publicity photo, and spawning myriad imitators. A solo album revealed a proggy, cabaret bent that would fully surface upon Sunny Day's 1998 reunion. The resultant album, How It Feels To Be Something On (Sub Pop), earned credible comparisons to Radiohead's OK Computer but, because American indie rock didn't quite have the footing it does now, its success was limited to a sold-out run of 1,000-seat venues.
A major-label deal came, Sunny Day broke up again, continued at half-power as The Fire Theft, and Enigk found himself solo again. World Waits (Reincarnate) was partly a sequel to his first album, but its grand orchestrations — clearly carried over from The Fire Theft — started to get lost on fans who once looked on his approach as the quintessence of intimacy. He'll be roadtesting songs off a forthcoming third solo album (due early '09), which he tells Billboard (http://www.billboard.com/bbcom/news/jeremy-enigk-rocks-out-on-new-album-1003895728.story) hints at a return to the early SDRE sound.
Chilton bears the scarring of a child star. Just 16 when The Box Tops' "The Letter" reached the top of the charts in 1967, he managed to hit an artistic summit and professional nadir with his next band, Big Star. Plagued by poor distribution and publicity, the band exited the '70s virtually ignored despite becoming a monumental influence on the next generation, most notably R.E.M. and The Replacements. But the tension that makes Big Star's Third/Sister Lovers so revered would grow like cancer on the rest of Chilton's career, sabotaged by erraticism and perceived bitterness for Big Star's commercial ineffectiveness.
He seems to have come around on the band's legacy, embracing it with original drummer Jody Stephens and The Posies' Ken Stringfellow and Jon Auer, agreeing to some long-overdue revisitations of the old material. It's hard not to feel, however, that Chilton missed a huge opportunity in the '90s to connect through bands openly acknowledging Paul Westerberg and ostensibly him as influences. Saturday's show provides ample opportunity to dig through his legacy, tattered though it might be.
— Steve Forstneger
Category: Stage Buzz, Weekly