Calexico
Metro, Chicago
Friday, November 21, 2008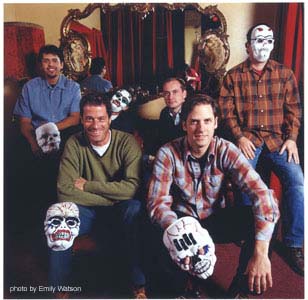 One can always count on Tucson, Arizona-based Calexico to throw a party, but a straightforward rock show? That's like Dave Matthews crashing a White Stripes gig – strange, but not totally unbelievable.
Joey Burns and John Convertino led their merry band of international players through a 90-minute set peppered with fiesta favorites ("Gnero Canelo" from 2003's Feast Of Wire) and slow-burning serenades ("Slowness" from this year's Carried To Dust) Friday night to a spacious Metro (Was everyone at Camper Van Beethoven?).
Burns cleaned up the sludge on "Black Heart," transforming the undulating composition into a raw and rushed blowout while "Not Even Stevie Nicks" lost all its desert flavor in favor of the Sunset Strip. "Writer's Minor Holiday" eschewed the album's lazy vacation vibe, instead encapsulating the punk aesthetic. The cacophonic sound bled into the encore when openers The Acorn joined Calexico with their ukuleles in hand for an initially hard-to-identify "Love Will Tear Us Apart." (Joy Division's Ian Curtis probably never pictured his seminal song re-imagined with a pedal steel guitar.) Courtesy of Paul Niehaus, the instrument's weeping character never felt out of place amid the clashing trumpets and teeth-gnashing guitars.
"Roka (Danza De La Meurte)" brought back the Clint Eastwood/spaghetti Western mantra, buoyed by Jacob Valenzuela's back-to-back rich vocals and expressive trumpet, while "Bisbee Blue" paired Burns and Niehaus for a stripped-down, melancholy take on the Garden Ruin track. Calexico's cohesiveness is still a visual wonder, second only to the aural goodies found at every turn on this dusty road.
— Janine Schaults
Category: Live Reviews, Weekly