Rise Against, Alkaline Trio, Thrice
Congress Theater, Chicago
Thursday, November 20, 2008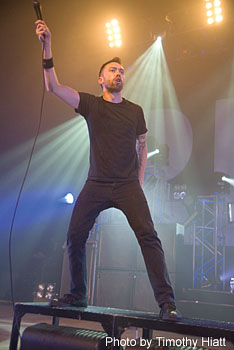 Early in their Thursday-night set at Congress, Rise Against performed against a massive backdrop with the word RISE looming prominently. It seemed fitting, as the band has risen from the ranks of suburban sensation to national power punk staple. And while it could easily be argued the RISE in question was in reference to, say, human rights or taking a stand on any number of civil issues, it was impossible to ignore the blatant, looming subtext. As if to drive the point home, frontman Tim McIlrath often took to standing upon two center stage monitors, as he belted out siren songs of counter culture, in the hopes of giving a voice to the voiceless.
And what a loud voice it was. Throughout the group's set, McIlrath shouted and screamed, barked and proclaimed to a responsive, frenzied crowd. There were signs of such impassioned performances taking their toll, however, like during a thrash-heavy version of "Life Less Frightening," where his vocals threatened to give out. Similarly, the frontman sounded as though he was ripping vocal cords on current single "Re-eduction (Through Labor)."
While McIIrath's delivered during the scream-heavy sections of "Like The Angel," easily the group's strongest and most engaging song to date, he sounded small singing the tune's more melodic, building moments. Fortunately, furious soloing and an undeniable bass line easily carried the song when needed. Yet while McIlrath might have over-exerted his pipes, one could hardly fault Rise Against for their unwavering, frenetic energy. Permanently on the offensive, the band continually attacked anthemic, moving quick and direct. Supercharged versions of fan favorites like "Ready To Fall" and "Give It All" especially ignited the room, throwing the Congress floor into chaos as fists pumped the air.
Of course, the band had little choice outside of burning down the house. Support from high-profile, often-headlining acts like Thrice and Alkaline Trio came with a certain standard, and could have potentially upstaged the night's headliner. While the evening's earlier entertainment didn't exactly end up owning the night, it wasn't for lack of catalog strength, and, in Alkaline's case, fan fervor. The Chicago-born pop-punk purveyors delivered plenty of recognizable commercial hits by way of "Calling All Skeletons" and a comparatively stripped down version of "Sadie," possibly the night's poppiest moment. Between them, the group peppered in earlier material, including "Cringe" from 1998's cult classic Goddammit. While the night belonged to Rise Against, there was a respectable portion of the room strictly there for Trio, as evidenced by a noticeable, but not overly sizable, exodus following the group's set.
Taking a cue from Trio, dusty and ambitious hardcore outfit Thrice displayed a showing of their more melodic offerings. The experimental "The Sky Is Falling" proved surprisingly direct, while material from a few albums ago such as the title track from 2003's The Artist In The Ambulance held up alongside newer fare.
On another night, the show could have belonged to any of these bands under different circumstances. That it belonged to Rise Against probably has something to do with the giant RISE backdrop behind them, signaling a lot more than just the verb in the group's name.
— Jaime de'Medici
Category: Live Reviews, Weekly