Jason Mraz, Lisa Hannigan
Aragon, Chicago
November 22, 2008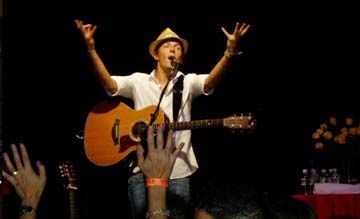 Forget about the screaming girls for a minute. Forget about the cheesy predilection for hats. Forget about the gimmicky routines instituted to spur a rapt crowd to simultaneous action and all the other reasons Jason Mraz inspires eye-rolling among those who wouldn't be caught dead dancing at a concert.
The San Diego-based, tongue-twisting singer proved Saturday night before a packed-to-the-gills Aragon Ballroom that it's all right to throw on a shtick like a ratty cardigan sweater — as long as you can back it up. Sure, he revels in the female adulation beamed at him in decibels registering a hair above shrill and addresses the audience with a message of peace, hope, understanding, and Obama that bears the signs of tour fatigue, but once the music starts, the fluff fades away.
Backed by a seven-piece band, including three horn players who tempered Mraz's reggae-tinged folk with a hint of Motown, the singer stuck close to his latest release, We Sing, We Dance, We Steal Things (Atlantic). The indelible hit single "I'm Yours" received a response bordering on pandemonium, while "If It Kills Me" dripped heavy with unrequited love set to the high-pitched perkiness of a ukulele. A wistful "Lucky" traded in Colbie Caillat for opening act Lisa Hannigan and "Only Human" growled with the pizzazz of Stevie Wonder.
Mraz's uncanny ability to let words roll off his tongue faster than Barenaked Ladies or a hip-hop mogul got the full treatment on "The Remedy (I Won't Worry)," and he went into full crooner mode on a Sinatra-influenced "Fly Me To The Moon." Those guys in hats gotta stick together.
Opener Lisa Hannigan slowly caught the crowd's attention with her lilting vocals. Bells ring in a far off place when this Irish lass opens her mouth – seriously. Unfortunately, her gifted four-piece band overpowered her in the mix. Without former duet partner Damien Rice by her side, Hannigan showcased her sunnier side, especially on the bouncy ode to blossoming love, "I Don't Know." With her debut solo album, Sea Sew, set for a 2009 U.S. release on ATO, Hannigan seemed rushed to get in as many songs as possible in the allotted time, but remained beguiling nonetheless on the latest addition to the "Grey's Anatomy" canon, "An Ocean And A Rock." A surprise cover of "The Lady Is A Tramp" found Hannigan at her most intoxicating. Coupled with Gavin Glass' banjo, the musical-theater staple impurely sizzled.
— Janine Schaults
Category: Live Reviews, Weekly