Explosions In The Sky
How Strange, Success
From a certain perspective, Explosions In The Sky are a collection of contradictions. Their grand, monumental music, made by quiet, unassuming men, tells stories without words. They deflect any claim to rock stardom, even as their popularity and exposure steadily increases. Drummer Chris Hrasky, a Rockford native, even explains that while the formation of the band was relatively painless, their rise to prominence was anything but. From his telling, the contrast is striking.
Appearing: March 28th at Metro in Chicago.
"I met them and there was just this kind of bonding, I felt very comfortable with them pretty much from the beginning. I felt like I was meeting long-lost brothers. I think that's a large part of why we're still doing this now. [Without our friendship], I don't think any of us would have wanted to devote eight years of our lives to this, so our friendship has probably been the most important part of the band for us."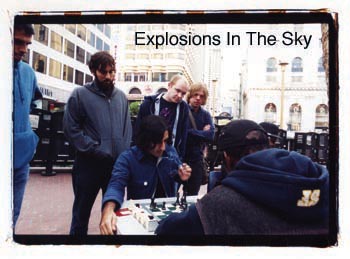 The strength of that bond has proven to be essential because, in many respects, their career arc echoes the slowly unwinding music upon which it's based. It's a familiar tale that has been experienced by similar bands who rise from the ranks of obscurity to a respectable level of recognition and success. Hrasky details the grinding struggle they've endured, when the payoff wasn't immediately apparent, and how their determination, a tour with another Austin-based band, and a frenetic tour schedule intertwined to launch Explosions to the level of success they currently enjoy.
"The first [year] we played Austin, nobody would ever come to our shows. . . It just sort of built pretty gradually the first few years. It was just the kind of thing, like man, there seems to be something here. We knew that if we wanted to keep at this, we would have to really commit ourselves to it, make this the focus of our lives. We've been doing this for eight years; it wasn't like we started and a week later, we're touring the world."
He explains how touring has been instrumental for the band's success.
"Touring has been a huge, huge thing for us. I think a lot of it, if we've had any success, is because of touring. We toured for a couple of years in a death trap of a van — setting up our own shows, playing wherever we could. Playing in people's basements, things like that. It's fun, but it's also the kind of thing, like, 'Jesus Christ, what I am doing? How long can I really do this?'"
— Patrick Conlan
To find out what the turning point was, pick up the March issue of Illinois Entertainer, available free throughout Chicagoland.