Otep
Freedom From Pain
Los Angeles artist Otep Shamaya bristles at the subject of women in heavy metal. As the female vocalist for a band that has toured with Ozzfest three times, she's somewhat of an expert on the subject, but today it's a bit of a sore one.
"I hate these kinds of interviews," she says, fielding questions from a Southern California recording studio. "I'm a woman. I sing in a band. And it's unique and rare and all that, but it isn't to me. It's just who I am. It's my existence. Sorry if I seem a little curt, but it's just frustrating."
Her namesake band of six years, Otep, worked the pay-to-play stages of Ozzfest in the early new millennium, blasting feminist rap metal to Korn-fed crowds. It was by design an uphill battle. Otep had only played six shows before agreeing to a third-stage slot on the 2001 tour. With no record and little fanbase, Shamaya and her band set out to dare the masses: Accept Otep's minority metal or move along to the beer tent. Most dispersed, but Ozzfest earned Otep name recognition, which Shamaya doesn't regret.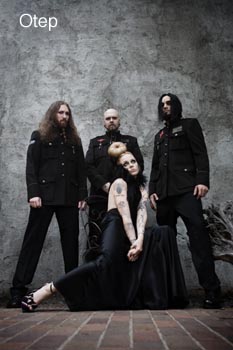 Shamaya can sing in a style synonymous with male death metal. Fans of Cannibal Corpse, Obituary, and Deicide refer to these low growls as death grunts, harsh vocals, or even Cookie Monster vocals, but in 2001, few Americans had ever heard them sung by a woman, let alone a woman who also rapped.
Her vocal fusion would eventually garner attention from poetry and art circles — she appeared on HBO's "Def Poetry" in 2005, and her band was profiled by New York's Museum Of Modern Art in 2006. But metal fans didn't take kindly to Otep on popular Web sites like Blabbermouth, criticizing how closely the band name resembles Opeth (a longtime Swedish metal act), and calling Shamaya's death grunts fake.
She chalks it up to sexism.
"Here it is in a nutshell: It terrifies the boys' club that they're going to lose an inch of power to someone like me. It terrifies them to the core, because all they have is this illusion of being superior. And once that illusion breaks down, they're left with the reality. And the reality is that they're not."
This all has worn heavily on Shamaya's love of metal. So heavily, in fact, that most of Otep's new CD, The_Ascension (Capitol), waves goodbye to metal music. The album is like a chemically altered vortex where Courtney Love and Kurt Cobain are just meeting for the first time, and In Utero and Live Through This are but glints in their lovesick eyes. Say hello to alternative rock, Shamaya says. Alternative rock with death grunts.
"Alternative is what we do. We're the alternative. If there's anyone trying not to stay within genre limits or be defined by a specific idea, it is definitely our intention to do exactly that and not be considered a metal band," she says. "There's this bubble that metal lives in that is very restrictive and exclusive, even though it's now supposed to be the outlaw music. It's just a big frat club. I don't need any of that."
— Mike Meyer
To find out how she got out, grab the March issue of Illinois Entertainer, available throughout Chicagoland.