Clutch
Jibber Jabber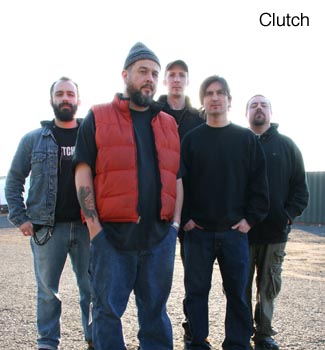 Depending on whom you talk to or which Clutch record review you read, frontman Neil Fallon is either A) the most clever wordsmith in rock 'n' roll or B) a bullshitter.
Appearing: March 14th at Metro in Chicago.
For his part, Fallon won't fully commit to either. "It's all subjective," he says, his gravely voice releasing a faint chuckle. "I think some people take rock 'n' roll way too seriously. They think every record should be a philosophical dissertation on something, you know? It's suppose to be fun. That's the whole idea, and if somebody thinks [my lyrics] are absurd, so be it."
Of course absurd can be meant in a good way. That seems to be the case with Fallon, whose difficult-to-decipher, twisted, bizarre, stream-of-consciousness stories have come to define Clutch, who also include guitarist Tim Sult, bassist Dan Maines, drummer Jean-Paul Gaster, and organist Mick Schauer. Since the band formed in Germantown, Maryland in 1991 (Sult, Fallon, Maines, and Gaster are all original members; Schauer joined in 2005) the vocalist has penned lyrics about robots, monster trucks, garden gnomes, UFOs, the periodic table, and the Civil War (if it were fought with the help of elephants), to name a few subjects.
Fallon wasn't always a professor at University Of Outlandish, though. Early in his career, he tried to play it straight.
"The early stuff was a lot more emotional. I think that was me trying to emulate other artists or just chalk it up to post-puberty male angst, what have you," Fallon admits. "The thing is I've had a very fortunate life, and I think I kind of exhausted that feigned anger, basically, and it's kind of tiring — you paint yourself into a corner. So what I was left with was having to make stories up and use my imagination, and I'm very lucky for that opportunity.
"I always kind of got off on trying to write songs on subject matter that was kind of absurd for rock 'n' roll music. If you take a chance and it sounds retarded, I would rather do that than go down the tried-and-true path, lyrically speaking."
Fallon admits he receives a lot of questions from journalists and fans about the meanings behinds his songs. He also admits he generally isn't much help.
"I rarely have the right answers," he says without a hint of irony. "I think people may be under the impression that I know what I'm talking about. They ask me questions about the Civil War or cars or aliens and it's just kind of like, 'You've got to understand that was basically all a lie.' I think that's a misconception. There's always kind of been this rock 'n' roll . . . music had to permeate someone's lifestyle, and I guess that's all right if you're talking about your life stories 'cause then it's true, but if you look at what I'm writin' about, it's all fiction."
Fans will be happy to know Fallon's approach hasn't changed on the group's new album, From Beale Street To Oblivion, which DRT Entertainment will release March 20th. Fans will surely also be pleased to hear Fallon call the album, recorded in Los Angeles with producer Joe Barresi (Tool, Kyuss, Queens Of The Stone Age), the "most live album we have recorded." First and foremost, Clutch are a stage band, and the dedicated following they've amassed during 15 years directly relates with their dedication to touring and to putting on the best show possible.
But until Beale Street, Fallon feels none of the group's studio efforts have properly transmitted the sound and vibe of "live Clutch." So for this, their eighth full-length, Fallon and co. not only shunned digital recording (the first time they had recorded directly to tape since The Elephant Riders in 1998), but they also decided to give Beale Street's tracks the ultimate pre-studio test.
"We brought the songs out on the road and before we got into the studio we knew exactly what we were going to record, we even knew the album order," Fallon says. "So I knew what the record was going to be, pretty much.
"One of the problems I've had with some of our records in the past is it never sounds like, ultimately, the way we end up performing it live," he continues. "This way that's not the case. We were basically just recording a live performance [the way we had been playing it] for the last three weeks."
A thick blues influence hovers around this album, and it would be easy to attribute it to the raw, organic nature of Beale Street. Songs like "Electric Worry," "Black Umbrella," and "Vegans Attack" are the most obvious recorded examples of Clutch's debt to the blues, however the incorporation of the genre into their music has been gradual. Fallon, somewhat sheepishly, refers to the bluesy jam "Tight Like That" from their 1995 self-titled album as their first try, but 2004's Blast Tyrant, with songs like "Regulator," and the following year's Robot Hive/Exodus, which featured both a Howlin' Wolf and Mississippi Fred McDowell cover, were the first signs of the band's rootsier side.
From Beale Street To Oblivion — the album title, taken from a line in "The Devil & Me," is a reference to the legendary "Home Of The Blues" Beale Street in Memphis — takes things a step further, but Clutch are still Clutch, not a blues revivalist act.
— Trevor Fisher
Sorry to give you the blues, but to read the rest you'll have to find the March issue of Illinois Entertainer, available free throughout Chicagoland.