Vega 4
Paradise By The Dashboard Light
It's an incredibly awkward night for brash young alt-pop hopeful Vega 4. The London quartet — led by charismatic Celt Johnny McDaid — is playing its first show in America at San Francisco's legendary Fillmore, but it's opening for teen heartthrobs Augustana. To top it off, the sudden departure of longtime bassist Simon Walker has necessitated a last-minute replacement, ex-Idlewild anchor Gavin Fox, who'll do his best to seamlessly fit in with Canadian drummer Bryan McLellan and New Zealand-bred guitarist Bruce Gainsford. It won't be easy.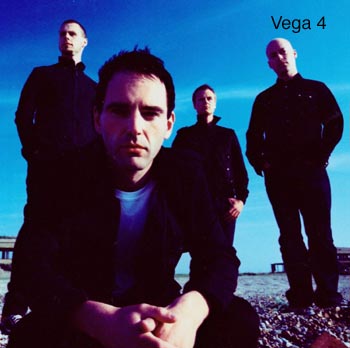 The mostly teenage-female audience stares blankly as McDaid — dressed in dapper black dress jacket, trousers, and oxfords — strolls out, coughs nervously, and announces he's proud to be making his Stateside debut at such a prestigious venue. Then he starts strumming his six-string, and an unusual phenomenon occurs: The kids get it. Instantly. Even through the singer's disarmingly goofy between-song banter. Vega 4 are going to be big. Really big. "Don't forget — we've got a little EP for sale, and we'll be signing autographs at the merch booth," McDaid announces at the end of his set, after running through anthemic high points from their upcoming Original Signal/Epic outing, You And Others. The crowd cheers. And does not forget.
You can tell by the happy, but subtly stunned, expression on McDaid's face as he's literally swamped by newfound fans in the club's lobby — he didn't see this overwhelming reaction coming. The ladies have him and Gainsford pinned against the wall, with no place to run, but the musicians grinningly take on all comers, signing every last CD proffered and chatting at length with several folks who are desperate to know where in the hell this great new band came from. One can only imagine the "Oh, fuck" thoughts poor Augustana must've been thinking, watching from the wings as their following get whisked away in one fell swoop.
And truthfully, it couldn't have happened to a nicer guy than McDaid, an instantly likable lad from Derry who brandishes a rapier-sharp wit and more surreal showbiz stories than most seasoned vets. How did he pick up guitar? Easy, he says, in a backstage chat. "John O'Neill from The Undertones taught me how to play. Because Derry, in the northwest of Ireland, was home to The Undertones. And we had a thing called the Nerve Center there, a collective where people would get together and teach kids musical instruments and recording techniques. It was in a really underprivileged area, very poor, and it was a house in the middle of town with sandbags between the rooms. And for 10 pence, we'd sit and learn to play guitar on cold winter evenings, and John pitched in like everybody else to try and help out us kids." Naturally, lesson number one was "Teenage Kicks."
With such an inspirational starting point, McDaid couldn't possibly be fated to fail. And he didn't — his writing on You And Others chimes with the tintinabulating tones of prime U2, Embrace, and Snow Patrol, with whom Vega 4 shares both management (Jazz Summer's Big Life) and production (Garret "Jacknife" Lee). He knows how to construct a hit from the ground up, as well; "Life Is Beautiful" (already heard on the tastemaking "Grey's Anatomy") whirs to life with music-box delicacy, then ratchets up the guitar textures into a huge cathedral of a chorus. A New Order-ish opener, "You And Me," turns in on itself like an Escher print, with self-referential relationship lyrics like "I really like you, yeah, I really fucking do/You and me perfectly fit the chorus/So I'll sing what it's like to be . . ." and McDaid bounds giddily into the "Gee, you're a groovy chick" chorus. On first spin, it's easy to dismiss Vega 4 as Snow Patrol Junior. But with repeated spins, its frontman's totally original voice and decidedly quirky personality bubble to the surface, and the record just keeps sounding better every time you hear it.
And McDaid just keeps reeling out the kooky yarns. "I always knew that I wanted to do this," he says of his profession. "How long it took was kind of academic — I didn't really figure that into the equation. So I left school at 17 and went over to London and played lots of pubs and bars. Or just busked on the street." Busking taught him the fine art of vocal projection — how to communicate a song to passersby with no microphone involved. At his usual home base of Leicester Square, some folks shoved him out of their way. Others threw strange items into his open guitar case, like used condoms. But on a good day, he smiles, he'd rake in the equivalent of $400. "It was a good earner, and I don't think I've earned as much having big record deals as I did when I was busking. I mean, it was brilliantly lucrative."
— Tom Lanham
To find out what McDaid did next, grab the March issue of Illinois Entertainer available free throughout Chicagoland.