Isis
Speaking Volumes
In the final chapter of Isis' live DVD, there's a glitch that is quite visible to the home viewer. The crowd couldn't see it, though they surely felt what caused it. And despite the professional gear involved, there was no way to conceal it. The glitch will forever be graffiti on Clearing The Eye (Ipecac), a moving snapshot of what it must have been like to be in Sydney, Australia, on the night of February 11th, 2005, when Isis took the stage, decibels were raised, and a video camera took on a life of its own.
Appearing: March 22nd at Metro in Chicago.
With the first peaks of Isis' transcendental live waveform, the camera grows wings. Massive bassy downstrokes in turn trigger flight. With valleys come peace, but the pulse continues, jolting the camera from the bottom of the blast radius to the top. The camera practically headbangs. It's hard not to notice.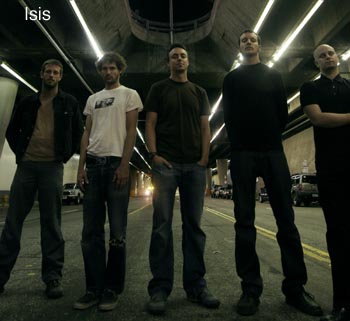 "I think the sound at that volume takes on a more physical form," says lead vocalist/ guitarist Aaron Turner during a blitz of international phone interviews. "Obviously when you listen to something in your home or in your car, you can turn it up loud and feel the vibrations and so forth, but I find it hard to imagine that there's anybody with a stereo that could really replicate the volume and intensity of a live performance."
Isis made their foray into mainstream consciousness on a nationwide 2006 tour with Tool. Their followup club tour — which will hit Chicago March 22nd at Metro — is sure to capitalize on a new fanbase that a decade in the underground couldn't afford. Being handpicked by Maynard James Keenan and company has its benefits (Isis' latest full-length, In The Absence Of Truth, reached the 6 spot on Billboard's Top Heatseekers Chart in late 2006), but it hasn't exactly propelled Isis into the "no brown M&M's" bracket of headlining bands. They still have to grind away in the slow season like all post-metallers do — scraping the caverns and taverns of the aging indie paradigm.
Turner grumbles while describing a typical club: "Well, very often you find that they're staffed by people who couldn't really fucking care less about your band and what you're doing, and very often go out of their way to let you know that." He speaks in gravelly bricks. It's an intensity well-suited for the mouthpiece of a self-managed band. "The vibe very often is kind of unpleasant. They're dark. They're dingy. Very often they're also bars. Not that there's anything wrong with that necessarily, but sometimes I feel like that's not the most appealing environment to spend a lot of your time in."
Hanging his tattooed rocker skin somewhere on a cell phone tower, it would seem that Turner might prefer playing Chicago's Museum Of Contemporary Art instead of Metro. An alumnus of Boston's School Of The Museum Of Fine Arts, he moonlights as a graphic designer of album covers (including Isis'). "Although what we do is rock music in a way, there is something to it beyond pure entertainment, and it's interesting to think about it being presented in a more art-oriented context," he says. Isis actually did perform in July 2004 at The Los Angeles Museum Of Contemporary Art. But Metro and the like win for sheer volume alone: "Sadly, rock clubs really are one of the few settings where there's the technical stuff that you need to pull off a performance in the way we like."
Isis have grown from their 1997 hardcore inception in Boston, when Turner was a 19-year-old straight-edge student from New Mexico, already operating his own punkish record label and distro, Hydra Head (now home to Chicago's Pelican). For a band who spent their early years as the bastard stepchildren of Neurosis and printmaking, it has been an unlikely journey into the arenas. Isis are now based in Los Angeles. At 29, Turner is more well-known for Isis' increasingly melodic, indie-meets-metal balance than being the guy who put out Converge's Black Sabbath tribute on limited-edition vinyl.
Hardcore no longer, he respects the ones that still are.
"I really do feel like we have managed to survive and succeed partially because of that background, and our grounding, and the DIY ethic," he says. "We like to maintain control over every aspect of what we do, but at the same time, we ultimately are happy that we can make a living off of our music."
Mike Patton signed Isis to his Ipecac label before Oceanic challenged the indie soundscape of 2002. The wide-eyed follow-up to 2001's Celestial took Isis' previously mathy sludgework into brighter, loftier territory. Panopticon followed in 2004, which saw Turner transitioning from hardcore screamer to rock singer. "It just took a lot of practicing and grappling with the subject mentally to be able to get around to finally doing it," he says. In The Absence Of Truth hit the shelves in fall 2006, shortly after Ipecac inked a distribution deal with Universal. The Tool-like vibe of the album and Isis' opening slot on Tool's tour became hot topics in the indie and heavy metal scenes alike — scenes that would suddenly focus on the metal side of Isis.
Pitchfork worried that Tool would turn Isis into an "an emaciated, innocuous version of their older selves." And Turner himself tested the patience of heavy metal fans before the tour began. He told MTV.com, "You're bound to have a larger meathead contingency in your audience when you open for a band as big as Tool, and we're very aware of the fact that a good portion of the people at these shows will be bored to tears or perhaps even angry while we're playing." The quote echoed throughout the blogosphere, to which one Blabbermouth reader replied, "Dissing metal is so '90s, I guess your [sic] just not as hip as you thought Aaron."
Was Turner — by his own definition — right?
— Mike Meyer
To find out if he was right, grab the March issue of Illinois Entertainer, available free throughout Chicagoland.