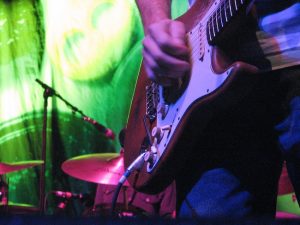 As a number of enthusiasts have pointed out, there are currently more pop-music genres than there are artists to occupy them. Whether such a sneering jab is true, the slotting of acts into ready-made categories has always been a vice of critics and fans.
The practice of labeling often gets dismissed as laziness, but the feverish production of new phyla seems to stem more from over-active minds than the other way around. Cross that industriousness with the inexhaustible supply of fresh sounds online, and it's no wonder the cup is overflowing.
The result, however, has been the opposite of intent: there are so many alleged styles that nobody can agree on what each signifies, and they often come about with little regard for whether an existing tag suffices. (Or if – as in the case of mumblecore and crabcore – we're even discussing music.) The "-core" suffix gets applied so liberally, you'd think the hacks who attach "-gate" to news scandals are behind it. The English-bred field of "drum and bass," which sprang out of '90s rave culture, has nearly two-dozen permutations (darkstep, breakcore, techstep, darkcore . . .) most of which appear designed to only appease the organizational demands of beats-per-minute Talmuds.
With local artists as a prism, we're going to try and help you determine which sounds correspond to which circles on your Scantron sheet. In a cosmopolitan metropolis like Chicago, you never know if the next blues or house will spring from dubstep. Or drumstep. Or moombahton. Or moombahcore.
United States Black Metal (USBM)
While black metal itself is unfamiliar to most, the USBM delineation is hardly perfunctory. The mother genre arose out of Scandinavia with deceptively conservative architecture and an equally dogmatic culture (which is ironic, because it's rooted in opposition to organized religion). Black metal is frequently written and recorded by individuals in solitude, by melding violent blast beats (percussive cannonades akin to machine-gun fire), low-fidelity recording techniques, a raspy, nihilistic Cobra Commander-esque vocal, and punishing, tremolo-picked guitar arrangements. A generation of Americans, however, have abused the genre for their own nefarious means. While many practice traditional black metal (and spend their days crafting perfectly indecipherable logos), others surgically dissect it, taking only what they need.
Chicago is perhaps the best place to start, with Nachtmystium (championed by "Caught In A Mosh" columnist Trevor Fisher) and some bands you'd only think of as tangentially heavy metal – though tangential seems to be the nature of USBM. Because for as important it is to note USBM's similarities to and differences with regular black metal, it's also a neutral identity. Nachtmystium sound no more like Liturgy than Jimi Hendrix sounds like Crosby, Stills & Nash. The former, fronted by Blake Judd, began as a trad outfit and who began splashing their core influences with classic metal signatures and even modern rock. (Key track: "Addicts.") Locrian involve so much of the no-wave noise rock pioneered by Glenn Branca that, with a couple tweaks, they could almost be Sonic Youth. Utilizing chants, earthy percussion, and things that go bump in the night, they've become the sonic equivalent of a terrifying horror film that never shows you the gore. (Key track: "At Night's End.")
Dubstep
Typically an electronic-music movement makes its way through England and Europe before winding up in stateside pop songs and hip-hop samples. Dubstep emerged about a dozen years ago in London, from the mingling pools of drum and bass, grime (a mercurial strain of hip-hop), 2step, and dub reggae. Its American manifestation has shown up at the neo-raves of DJs like Skrillex, who've been slammed by purists for creating "brostep": a frat-boy friendly bastardization. Mostly instrumental (save when samples have vocals), dubstep typically relies on a half-step rhythm and menacing bassline filled in by some or all of synth figures, syncopation, and samples. The modern/commercial tracks all lead to what's known as the drop. "Filthy" drops are akin to bass solos conducted by malfunctioning automobile factories. Customized dance moves resemble breakdancing seizures, and remixes typically add teeth to the most innocent of tracks (Adele, Ellie Goulding). While Chicago has no one on the level of Skrillex or Bassnectar, DJs Chris Widman and Phaded (1/29 at Reggies) hold down regularly at Smart Bar, while Nameloc was among those at the Lava Lounge beginnings and who regularly throws down at Subterranean. (Key track: Nameloc "Ever After.")
Juke
Juke juke juke juke juke. You won't have trouble finding local examples of juke hip-hop, because juke is a Chicago idiom. Like go-go to D.C. or hyphy to Oakland, juke represents a regional culture that hasn't really traveled outside the area. An offshoot of ghetto house, minimalist – and we mean minimalist – beats move at a breakneck pace to push dancers to the limit. The dancing ("footwork") is more essential to juke than breakdancing was to early hip-hop, and it rivals dubstep moves in mind-bending ingenuity. You're more likely to find representative CDs sold from of a car trunk than a Best Buy, with the more mainstream artists being Chrissy Murderbot, Zebo, Flosstradamus, and Kid Sister (Key track: "Luuk Out Girl"). But if you find yourself in a South Side fix and need to flash some cred to save your neck, you can always ask anybody if they have any DJ Rashad, Gant-Man, Traxman, DJ Client, Dude'n Nem, Ghetto Division, or Starfoxxx. (Key track: DJ Rashad ft. Gant-Man "Juke Dat.")
Moombahton
The term "moombahton" sounds far more international than the Hispanic high-school where it was born. Invented when a DJ (Nadastrom's Dave Nada) turned up for a dance with only techno, and deliberately modulated it to sound like reggaeton (the first song he tried was called "Moombah"), the style's vocabulary has exploded in ways that variably amp or downplay the ethnic aspects. Chicago already has top men working on it – Top. Men. – with fierce parties hosted by Willy Joy (1/13 with Nadastrom at Metro) or Rampage & Nader, while Stratus – who also deals in dubstep – released the addictive cut, "Jasper's Theme."
Witch House
Nothing announces an arrival like a good backlash, and maybe all you need to know about witch house is that there's an arbitrary band-name generator online: it spits out ideas with each capital A replaced by a triangle. The second thing is the deceptive use of the word "house," which doesn't necessarily signify the dance-music form. The best way we can describe it is ineffably slow and languid late-'80s goth-pop for the American Apparel generation. Vocals are purposefully drowned out and not particularly melodic, which lead to an impression of hauntedness. Pitchfork alleges that early, ambient dubstep and Swedish electro band The Knife were key influences, though witch house's burgeoning star, Charli XCX, shatters the buried-voice rule and sounds like a synthed-out Siouxsie & The Banshees. With a scene that's almost purely Internet-based, locating practicing local outfits is difficult. Local booking agents recommended Magicks, the nom de plume of a Reggies employee whose latest upload, "Catalyst," tells you everything and nothing about witch house, because it might be considered . . . (Magicks: 1/19 at Reggies with Rituals)
Chillwave
Chillwave also goes by glo-fi, though the only people still calling it that are also calling witch house "drag." The difference between the two depends on how you grade the amount of light you feel. The – semi-dismissive – shorthand on chillwave is "electronic vacation music," if you believe vacationing to be sitting on a warm beach and letting the wind sift through your hair. (Male-pattern baldness need not apply.) Chillwave also prefers strong vocal lines, though in the eyes of Chicago's Glitter Bones, they don't have to be high in the mix. Houses (Key track: "Soak It Up") amiably fit the holiday description, while Young Man (Key track: "Up So Fast") – releasing another album on French Kiss this winter – drifts into and out of Animal Collective/Beach Boys space.
Noise pop
Not new by any stretch, noise pop has shown a spectacular ability to regenerate and mutate, recently adding middling success to its repertoire. As distinguished from full-assault, Boredoms-esque noise rock, noise pop's game is to hide the melody. The bigger national bands like Animal Collective and No Age get prominent slots at major festivals, washing their tunefulness in waves of distortion and electronics that are less ferocious than textural. Provocation remains integral, but even local outfits like Yawn have managed to sculpt bracing psychedelia into something user-friendly. Bigcolour kicked off with sizzling, chillwave compositions but have since morphed into a garage-rock hybrid that trembles while trying to focus. But if it's discomfort you seek, Gypsyblood's Cold In The Guestway (Sargent House) doesn't sound at all out of place on a label with serial Japanese noise terrorists Boris – as if when they were kids they put saw blades in their bicycle spokes.
Lazer Bass
Such is the yen for artists to feel insulated from traditional scenes, MC Zulu told the Chicago Reader he'd rather not live where there are large Afro-Caribbean communities. While Toronto and Queens teem with competitors, Zulu – born in Panama to a military family – has few peers in Chicago's field of lazer-bass saplings. (Other descriptors include "future blap" and "turbo crunk.") The sci-fi-like genre couldn't be more of a melting pot if it tried, combining dancehall MCs, clunky hip-hop, hyperdrive techno, bossa nova, and whatever else you got. French-Canadian DJ Ghislain Poirier initially announced the "movement" to be stillborn, that it was only a small circle of people who were fiddling with the same sounds. Central to it – as for dubstep, moombahton, etc. – are deep, industrial-grade basslines that are frequently doubled in octaves above and below, plus the odd conflicting bass pattern. Zulu, quasi-Caribbean by birth, seems primed to overtake it. (Key track: "Call Red Alert.")
Genre Unto Themselves
We could really run with this forever. Besides frequent citations of "post-chillwave" and well-populated but sufficiently underground categories like glitch-hop or crust punk, we've come across purple sound, acid crunk . . . it's overwhelming. But one of the biggest square pegs we've found among Chicago-based musicians have already been put on the shoulders of an unlikely source: Victory Records. The punk label's roster, which seems to aggressively recycle the same hard-edged tones, dug up Victorian Halls and no one knows what to do with them other than blast them for being Blood Brothers clones with high-tech dance beats. It's a fair argument, though clearly the sound didn't get the BBs anywhere – something else must be afoot. Dance punk, so myopically rooted in Gang Of Four since forever, needs an exit strategy. Even if that means Auto-Tune. Victorian Halls might not find the door, but with some occasionally embarrassing and thrilling solutions, they're doing quite a bit more than fumbling through their keys. (1/27 at Double Door)
And if you only seek a pure, guitar-pop rush, there's always Clip Art. They'll be on display at Schubas every Monday (beginning the 9th) in January, and spiritually following Shoes and The Redwalls – or, if you like to get grandiose, Badfinger and Big Star. Their immediate antecedents, The Smith Westerns, headline Metro on February 3rd.?