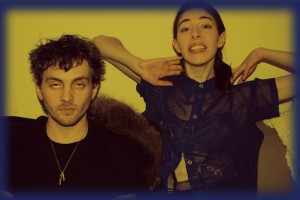 Winter is always the hardest season for music lovers in Chicago because so few bands hit the road. And who can blame them? After all, the below-freezing temperatures, blustery snow, and icy roads are enough to make even the proudest native wish they were somewhere south, while tourist traffic is slim, especially since cash is short after the holidays.
Thankfully though, there is one relatively recent development in the indie-rock scene that's giving faithful a much needed new-year fix. Enter Tomorrow Never Knows, a festival spanning January 11th to 15th, that's spread across Schubas, Lincoln Hall, Metro, Smart Bar, and Hideout, bringing a mix of national and local bands, plus a handful of DJs and standup comics.
"It started in 2005, essentially out of Jeremiah Wallace from Paper Airplane Pilots, who worked here [at Schubas], looking to find support for a record-release show," recalls Matt Rucins, talent buyer and promoter for both Lincoln Hall and Schubas. "We figured it would be best to make it two nights of local bands and – by naming it – it would be easier to promote. It went well, so the next year we stuck to local bands, but added a third night and the idea stuck. Then we started introducing regional bands and wound up with five days at Schubas. We continue expanding a little bit each year and wound up adding Lincoln Hall. We've always been close with Metro and last year we brought them on board for a couple of nights. This year we wanted to add another venue, but went to the smaller end with the Hideout, where comedy will be a nice addition to the room."
Though acts continue to be added, confirmed artists at press time included headliners The Walkmen (performing a 10th-anniversary concert), along with Grouplove, Glass Candy, Chromatics, Theophilus London, Two Gallants, Tycho, Active Child, and Chairlift (above). Of course, there's also a slew of even less familiar faces, but Rucins recommends showing up early because chances are one of the future's most beloved bands could emerge from the event.
"Some of the stuff you might not be aware of unless you do some research, but if you know and like the headliner, you're probably going to be fairly happy with who goes on before them," he confirms. "Bon Iver did his first show in Chicago as part of Tomorrow Never Knows and now you have to pay $30 to see him play at Chicago Theatre or UIC Pavilion. We've also had Tapes 'N Tapes, Dr. Dog, Handsome Furs, The Helio Sequence, Atlas Sound, Freelance Whales, Maps & Atlases, White Rabbits, and The Redwalls, to name a few."
Given the event's Chicago roots, it's understandable for prospective attendees to draw a mental parallel to Lollapalooza or Pitchfork Music Festival, but Rucins likens it loosely to South By Southwest in Austin or CMJ Music Marathon in New York. "I think this is for pretty serious music fans," he continues. "Pavement's not headlining and you've got to come out in the depths of winter in Chicago to see it. It also takes more effort from you and it's not all one-stop shopping. We provide a trolley to all venues, but there are also buses, trains, and cabs. That makes it more along the lines of CMJ and South By Southwest, but it's much, much smaller and it's not a music conference. We don't have panels and I don't envision us going that route, but we do hope to keep up a diverse lineup and continuing partnering with other venues."
Perhaps the smartest planning angle of the entire event is the immense amount of attention it and the participating bands receive, if only for the lack of competition. Even though TNK is a shoe-in to saturate the blogosphere and print papers, all of the attention is certainly warranted since so many new musical discoveries are ripe for the picking.
"When we started this, we didn't sit down and say, 'Let's start a music fest in January'; it's more organic than that," promises Rucins. "There's not a whole lot going in live music or much else really, so we quickly found out the coverage of it between press, blogs, and word-of-mouth was pretty all encompassing. Having it a part of the Martin Luther King Jr. weekend buys us a little extra energy, and it gives Chicago music fans something to look forward to in the middle of winter."
Bands to watch
The Walkmen
Formed from the ashes of late-'90s buzz band Jonathan Fire Eater, The Walkmen not only survived the garage-rock boom of a decade ago, but are surging. Though their biggest commercial achievement remains the arena-friendly "The Rat," a romantic flair and widescreen arrangements keep them fresh.
Active Child
Frontman Pat Grossi could probably give you the mathematical and theoretical breakdown for why his vocal arrangements drop peoples' jaws open. He doesn't hide his skill or training, and filled You Are All I See (Vagrant) with influences that range from Jeff Buckley and Owen Pallett to Antony & The Johnsons and Baby Dee. He offsets his classical composure with the pent-up, minimal R&B that built James Blake a house, but streaks that quad wearing a Petruccio mask.
Chairlift
One of those Apple television-ad bands, Chairlift's 2008 debut didn't always work but came from so many directions that the possibilities on the folluwup are manifold. They've released two singles from their forthcoming Columbia debut, Something, and both "Met Before" and "Sidewalk Safari" reveal a more assured, focused band – now a duo – without losing an ounce of enthusiasm.
Class Actress
Elizabeth Harper started as an earnest singer/songwriter, and now seems to prefer mugging for photo shoots. Class Actress' effortlessly sexy, glittery synth-pop meets somewhere between The Knife and Goldfrapp, and can be both teasingly girly and relentlessly powerful. Rapproacher (Carpark) never goes anywhere without its makeup on, even if it's tellingly smeared.
Dom
Coming seemingly out of nowhere, Dom's decidedly lo-fi, fuzzy, surfy-psychy, synthy, reverb-heavy-just-out-of-the-garage rock has been building buzz since it first started circulating on cassette. The band deliver solid hooks, with riffs recalling "La Bamba," "Get Off My Cloud," and "China Girl" – or, in short, touching all of pop/rock's historic high points.
Plants & Animals
Plants & Animals sound like the work of a theater company. Seeking more power from their trio, the band stack songs with brass, clarinet, flute, and choir. A big choir. Evoking Polyphonic Spree, Beta Band, and Head Of Femur, they alternate between a pensive romanticism, desperate and sultry R&B, shy folk, and glam Bowie without seeming out of their element.
Grouplove
If ever a song were sole justification for Lollapalooza to invite a band, "Colours" is it. A flailing, acoustic thumper with stuttered verses and adlibbed harmonies, the track frantically ticks all the boxes on the summer-anthem checklist ("Things are not thaaaaaaaaaaat bad").
Herman Dune
This band's approach to songwriting might cause some to stick them with the dreaded "quirky" tag, an effect most likely from David-Ivar Herman Dune's conversational lyrics. But slowly, you join the Tell Me Something I Don't Know EP's discourse and find yourself one with the geeks.
Willis Earl Beal
This reclusive West Side artist will probably spark a number of uncomfortable conversations this year. Acousmatic Sorcery, due in late March via XL, might strike you as gut-wrenching gospel/blues of the Fire In My Bones order, Wesley Willis-level exploitation, or pure minstrelsy. Moments of unbridled, soulful majesty are broken by passages of utter inscrutability, making for an exhausting yet rewarding listen.
Cloudbirds and Carter Tanton
Familiarity (and clouds) strikes twice on the 12th at Schubas. Cloudbirds are 3/4 of Kinks-bred local boys The M's, who've transformed into a gentle, hymnlike acoustic-harmonies trio. Their self-titled debut can be had for free here. Tanton used to travel the globe as Tulsa, but ushered a shimmering version of his echoing Americana into Freeclouds, which was released last fall on Western Vinyl.
Nadastrom and Willy Joy
The term "moombahton" sounds far more international than the Hispanic high-school where it was born. Invented when a DJ (Nadastrom's Dave Nada) turned up for a dance with only techno, and deliberately modulated it to sound like reggaeton. (The first song he tried was called "Moombah.") The style's vocabulary has exploded in ways that variably amp or downplay the ethnic aspects. Chicago already has top men working on it – Top. Men. – with fierce parties hosted by Willy Joy.
Tycho
Scott Hansen knows that his graphic-design job and music gig are deeply intertwined, but he's given them separate names (ISO50 and Tycho) anyway. He embraces the chillwave aesthetic – waking up on the beach – in both, though his latest outing, Dive (Ghostly International), will get you more in the mood than staring at sun-bleached visuals (on a cold January day in Chicago) ever would.
Poliça
It's always a good thing when the psychedelic, Animal Collective paradigm gets stretched into something less recognizable. There are far too many artists who orbit too closely. Poliça, an offshoot of Gayngs, manage the swirling effect but come at it with the mindset of underground R&B producers. Channy Leaneagh's fluttering, faux-Auto-Tuned vocals on next month's Give You The Ghost recall James Blake with a heartbeat, and her pulse gets a boost from Ryan Olson's beats — and he's not afraid to rock out if he has to.
Caveman
On its debut (head-scratchingly named after an '80s-era middling bad guy WWE wrestler?), current Brooklyn-based five-piece band o' month Caveman serve up high-fretted, whooshly keyboarded ethereal indie pop with an electro/ambient edge, which serves as perfect backdrop tight harmonic vocals that all members appear to contribute. Think jangly pop without the jangle from Autechre backing Enya singing in English and you get the idea. On cuts like "Old Friend" and "Thankful" it can get irresistibly compelling that one keeps returning to.
Hospitality
That giant swoosh you just heard was a premature donning of corduroys by Belle & Sebastian nation upon hearing the opening tones of Hospitality's forthcoming Merge debut. A (merciful) red-herring if there ever was, the New York-based trio can surely deal in wistful twee as well as any Glaswegian waif in a cardigan, but it's Amber Papini's unexpected sass on tracks like "Friends Of Friends" and "The Right Profession" that move the record along.
Canon Blue
If you're the type of person who enjoys Mutemath, you'll probably not be caught lurking around TNK this week. Everyone else will need to make this set a priority, because the next time multi-instrumentalist Daniel James and co. come through, it'll be opening for the keyboard-smashing cabal. Canon's Rumspringa opts for brightly popping classical-related fills, samples, and loops, giving the album a distinctly British feel.
— Interview by Andy Argyrakis; preview by Steve Forstneger and David C. Eldredge