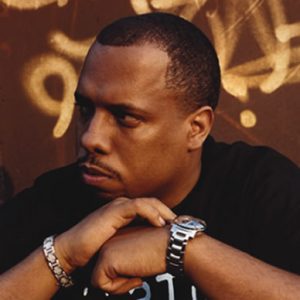 Grab your torches, we found the person responsible for Kanye West. Actually, while most of local hip-hop history goes relatively unsung, people far and wide shout No I.D.'s praises – probably without knowing it.
The South Sider, born Dion Wilson (his moniker is the reverse spelling of his first name), has made several unremovable marks on rap music in two distinctly different eras, and is one of the few artists in any genre to successfully choreograph a second act. The first came at the side of rapper/actor Common in supplying the beat for "I Used To Love H.E.R.," raising the Midwest's game above the East Coast/West Coast fray in '94. (It was during this stage that a green-eared West would sit in the studio and watch a master at work.) The second act, we're living with him: he's an A-list producer/songwriter behind Jay-Z, West, Beyoncé, Rihanna, and Drake, among others, who was recently tapped to become an Executive Vice President at Def Jam Records – the New York-based label that is hip-hop.
"Well actually," he laughs, "I'm in control at this moment."
Looking at that history, the eyes are drawn to a gap in the chronology almost perfectly sandwiched by Common's voyage east to become a Soulquarian and West's rocket-like ascendancy of the pop-music zeitgeist. Peoples' taste for the jazzy elements that were his signature turned to the live-band approach favored by The Roots. Then, sample freaks in general flocked as commercial hip-hop went the way of hook-heavy Puff Daddy productions and the jerky punch of Timbaland. No I.D. actually released a couple solo albums in this interim, but otherwise laid low.
"I took a break," he says matter of factly. "It's not like [artists] go to school, and get a handbook, and it's laid out. We make our mistakes, have our ups and downs. A lot of people don't get past the downs. So, I took some time, refocused, rethought. I educated myself a little bit and decided on a path. So pretty much everything happening was a choice, an educated choice. Experience taught me a lot. The [Def Jam job] wasn't an accident: it's a job, a specific project with goals that I set. From that aspect, I wasn't surprised [to get it] other than the fact that I'm good enough to achieve these things. I may be the one producer from my era that is still working at this level. I feel kind of over-qualified for what I'm doing."
It's hard not to notice his confidence, or hear the similarities in the way Common talks about his own career: there are no extraordinary gambles, miscalculations, or accidents. Everything happens for a reason, or for each door that closes another opens. Asked if he feels his current status feels like a vindication or a longtime coming, he steadily repeats himself.
"I think it's not more of a longtime coming, but being qualified to do a job," he assures. "Not a vindication."
No I.D. cut his teeth spinning records at house-music clubs and parties when he was a teenager. DJ technology was still pretty primitive in the late-'80s, so cutting tracks and matching speeds took not only an inherent feel for rhythm, but the ability to read an audience whose mood balanced on the mercurial mix of chemicals in their bloodstreams. House music, as it related on the South Side to step music and eventually juke, wasn't simply pressing buttons.
"I started out with Farley Keith, Steve Hurley, Andre Hatchet, Ron Hardy," he remembers, "you name 'em: all the classy house DJs. It was a Chicago culture. I was a young kid and I got the experience of playing music for 2,000 people and having the responsibility of making them react to things they'd never heard. I was just all into it. The music business and house music were not . . . it's not a business you can make money off of. It was more for the love of the music and the culture of going to the clubs, the instant gratification. You'd dance all night, and Chicago's one of those places where a person from Chicago will just start dancing by themselves. It's weird. You don't see that too many places, outside of New Jersey, maybe. It was just something fun. The excitement was musical, challenging, and in a city where there was no music industry where I was growing up, it was my introduction to everything."
He soaked up ideas from anyone who'd give him the time, and transferred his house skills into the studio where he and Common would form a lethal combo. His spellbinding mix under "I Used To Love H.E.R." gave a psychedelic, mysterious feel to a parabolic tale of hip-hop as a tragic female. They also started a minor war with Ice Cube via "The Bitch In Yoo," and meshed seamlessly with the neo-soul coming out of Philadelphia. After three albums together and laying the blueprint for conscious rap, No I.D. seemed to disappear.
"I have a system of thoughts that focused me to deal with that," he explains. "Me stumbling and everything: I realized most people don't have a long career and I kind of made an assessment that it's because once you start living within the successes or acknowledging them as you set new goals – setting them next to your goals – you're liable to trip and fall. I'm a person who never takes my plaques and puts them on the wall. I treat everyday like I never did anything. And I also leave space to make mistakes and try different things and stay humble, not turn people off. It's a calculated move on my part, because I realized the only way to make a full, real-life career out of this is to keep having space to reinvent yourself, re-educate, and readjust. And don't let success get in the way of that."
So he bided his time until moving to Atlanta and hooking up with Jermaine Dupri. Along the way, he had introduced West to friend Kyambo Joshua, an A&R rep at Jay-Z's Roc-A-Fella imprint. Joshua signed West to his own Hip Hop Since 1978 label, paving the way for West to work with hip-hop's elite. West would drop No I.D.'s name in album verses, which facilitated his unprecedented return. While he never stopped doing beats and kept busy in the South, No I.D. was permanently back in the game with two key credits on Jay-Z's Blueprint 3, "Death Of Auto-Tune" and "Run This Town."
"A lot of what I learned early is what I used," he says, "and I kind of 'hybrided' it with what's popular now. So, again, it's like a nice tool set or skill set to have been in that era and know how to do it properly – even down to the fact when I came into music, people were using reel-to-reel and now it's just computers. But that perspective teaches me a lot of how to make a record sound different. Most people are just working with what they have, and it's all they know. But I have a different reference point just because of the eras I've been through while making music."
As for the age-old quandary of making Chicago a hip-hop capitol, he says it's up to artists like him to share what they know. The talent level is unquestioned.
"We don't have teachers, so we have to teach ourselves," No I.D. believes. "We make innovative choices, and there's a will and desire to work over every single obstacle to prove your worth, versus, 'Hey, I'm handing you an opportunity.' It's like, the heavier the weight, the stronger you get."
But still, it seems our talent needs to leave to shine.
"It's not that we're not good enough, but the business infrastructure is what's not in Chicago," he argues. "That's why people have to leave Chicago. You can't just build the business aspect of it. Because, again, you've got to have the people to show you how, the resources, and it's just the simple fact of cash flow in that sense. You've got to have qualified people, experienced people . . . that's just not in Chicago. You can't say, 'When will it get it together?' Chicago has some of the better artists. You look at R. Kelly, Kanye West, Common. When you look at [a smaller city like] Atlanta, the first thing you see is [Antonio] L.A. Reid, who had this experience with Babyface and let him be more of an executive than a producer. So they built a business scene and helped educate Jermaine Dupri. Experienced people helped build the infrastructure as well as money streams from their success."
It wouldn't hurt to have more proteges like West, who, when 14, No I.D. chided as "Hammerish."
"When he was younger," he snickers, "he really looked up to [MC] Hammer as an artist. He thought he was a really good artist – not saying that I don't – but I'll always remember a day when he was wearing the actual Hammer pants. He was a character."
Well, he had a good teacher.