King Khan & The BBQ Show
Bottom Lounge, Chicago
Friday, October 31, 2008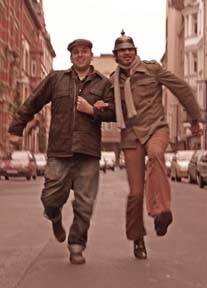 Who knows why it happens, but every few years a simple garage rock band captures the (indie) zeitgeist, begging us not to retreat to our flaccid existences.
King Khan (aka Blacksnake) is the latest applicant, a transplanted American dug out of German and Spanish dives (what, Sweden was closed?). He rocked Pitchfork Festival's balls this summer, dressed in some sort of shamanistic, Persian orgy get-up with a scrappy band called The Shrines or The Supreme Geniuses or whatever. It works because, while wearing a costume, he tears through the artifice of artsy bands to impress upon whitey what The Black Lips, Mooney Suzuki, Jon Spencer, Mitch Ryder, Jerry Lee Lewis , Chuck Berry, and Ike Turner couldn't: Shake your ass!
The BBQ is not another gang of Khan ringers, but one Mark Sultan who plays guitar and drums. Together, their guise is along the soul-bent Nuggets line, but more of a poor-man's MGs (as in Booker T). Their self-titled debut has been reissued three times (most recently by In The Red), but actually has some sincerity behind its hammy cries. The ultra lo-fi production is a bit of a pander, but in person there shouldn't be any concern over play-acting. Afterwards, you just might find yourself not returning to your old life.
The Goblins, Cococoma, and Women open.
— Steve Forstneger
Click here to download "Love You So."
Category: Stage Buzz, Weekly