TV On The Radio
Riviera, Chicago
Wednesday, October 22, 2008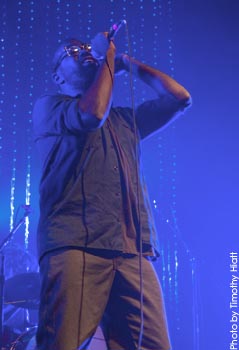 Shortly before the end of TV On The Radio's Wednesday-night stint, the group's show became too expansive to merely be contained on the Riviera's stage. For "Let The Devil In," the band was joined by a slew of accompanying musicians, including percussionists wielding maracas, extra drums, a tambourine, and much more. The numbers on stage became so many, the outfit's horn trio relocated to one of the venue's side balconies, resulting in a performance that featured no less than 13 players.
While the rest of the night might not have shared "Devil"'s numbers, it certainly shared its passion and conviction. Throughout their enlivened performance, TV On The Radio, in support of Dear Science (Interscope), proved time and again they are as moved by and devoted to their music as their audience. The rest of the band's enthusiasm was evident as the evening progressed, but it was frontman Tunde Adebimpe who embodied the true spirit of the evening. Dressed minimally in black pants and a black sleeveless shirt, Adebimpe bounced and bounded and paced, remaining in constant and frantic motion from beginning to end.
It was easy to understand why, as TVOTR delivered a set packed with plenty of celebratory numbers. On "Shout Me Out," Adebimpe's voice itself became as impassioned an instrument as any other in play, alive above a layer of tin shielding the song. And the ultra-uptempo, horn-heavy banger "Dancing Choose" played out like a hip stream of consciousness flow à la "It's The End Of The World As We Know It."
Occasionally the outfit ventured into more subdued and introspective territory, like in Dear Science's "Stork & Owl," wherein cobalt blue stage lighting accentuated the tune's downtempo tone. Yet such respites were few and far between, with the band proving they had little use for little moments. By the time they shut down the evening with an electrified version of "Staring At The Sun," the group's favoring of flash and spectacle had become apparent, in the process turning the crowd into converts of the hippest neo-soul church on Earth.
— Jaime de'Medici
Category: Live Reviews, Weekly