Tom Brosseau
Cavalier
(FatCat)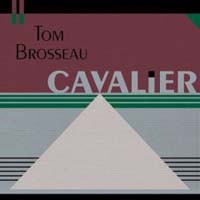 Reducing Tom Brosseau to just him and an acoustic guitar isn't much of a pare down. A bigger test would be surrounding him with a marching band and patching some electrical tape over his yap.
Appearing: Thursday, November 1st at Logan Square Auditorium in Chicago.
Not that he gabs like The Hold Steady's Craig Finn, but the signifying element of any Brosseau recording will always be his croon. (Anyone who has ever mistaken Nina Simone for a woman would surely peg Brosseau as a member of the fairer sex.) It is upfront and ultra-personal on Cavalier, transporting his vintage folk/blues to curious new planes. The pitter-patter of "Committed To Memory" manages to invoke both Son House and Devendra Banhart, yet his "Crossroads"-echoing "Instructions To Meet The Devil" owes more to downhearted pop songwriters than any age-old idiom. Stripped bare or not, the deciding factor for anyone listening to Cavalier will be tolerance for "that voice," however, which is gimmick enough.
6
— Kevin Keegan
Click here to download "Amory."