Magnet
The Simple Life
(Filter)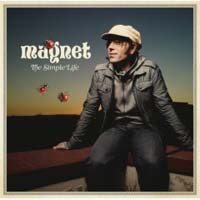 Magnet, aka Even Johansen, is proof you can't bank a living on having one of your songs played on The O.C.
Appearing: Friday, November 2nd at Vic Theatre in Chicago.
There was nothing wrong with his cover of Bob Dylan's "Lay Lady Lay," but foisting Magnet's deceptively complex arrangements on a teen audience was a bit of a gamble. Now with his third album, The Simple Life, the Norwegian isn't taking another stab at the telly (though you wouldn't know from the title he chose), but honing his craft to fit somewhere in the commcercial purgatory of Rufus Wainwright, Turin Brakes, Josh Rouse, and Thomas Dybdahl. Judging by the amount of whistling here — the Seven Dwarfs are *not* credited on "She's Gone" — Johansen doesn't care. Borrowing from the likes of "Cecilia," Swizz Beatz, and rocksteady, his whisper-soft voice and trademark swirling strings shine flashlights on new corners before annexing them for his overall sound. The Simple Life might bemoan lost loves, but it's perfectly content with everything else it has going for it.
7
— Steve Forstneger
Click here to watch the "Day We Left Town" video.