The Ghost Is Dancing
The Darkest Spark
(Sonic Unyon)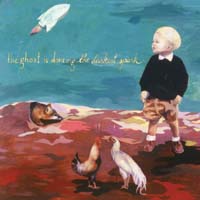 Exuberant indie rock, like I Am Barcelona invading Conor Oberst's practice space with the Clap Hands kids, is what makes this ghost dance.
The Darkest Spark bounces in a wide-eyed, good-to-be-alive way. It seems like when you get more than seven Canadians together something potentially brilliant happens (Arcade Fire, Broken Social Scene), and this nine-piece doesn't want to disappoint. Eschewing the darkness or damaged artsperiments of its countrymen, The Ghost Is Dancing has made the first rule of its debut album "Smile!" — followed closely by "Sing!" Frontmen Jim DeLuca and Jamie Matechuk have a bottled, nervous energy to them driving indie pop in a spalltered direction, which leads to some thrown-together-sounding tracks. The plan to get everyone involved as much as possible hamstrings the multi-part "Organ" from developing beyond some glued-together songlets. It's only when most everyone drops out of view on "The Dark & The Bright" is it possible to get a sense of the band without all its trappings, and generally it turns out there are just too many cooks. In all the mess, however, there's a refreshing lack of pretense made even more tolerable when you realizing the members just wanna have some fun. Pointing The Darkest Spark's faults out often feels like critiquing the Christmas play, but that's exactly the problem.
5
— Steve Forstneger
Click here to download "Shuttles & Planes."