Ted Nugent Comes To Town For Ma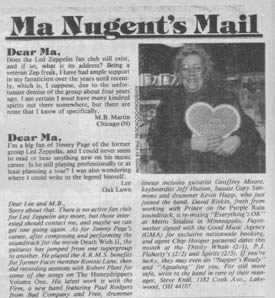 At a special ceremony on August 1st at Durty Nellie's in Palatine, Ted Nugent will appear to help commemorate his late mother, Marion "Ma" Nugent.
Nugent is already in the area for a concert at the Genesee Theatre in Waukegan that night, but will appear at 5 p.m. in P-Town literally for a monumental dedication. Ma was an *Illinois Entertainer* columnist in the '80s, answering all sorts of queries (rock trivia, matters of the heart, Ted stuff) in "Ma Nugent's Mail" and was omnipresent at gigs and events.
Family friend Eric Kinkel has spent a number of years organizing this memorial (a four-ton statue), enlisting the help of Nellie's owner Mark Dolezal and Palatine mayor Rita Mullins.