The Shins
When You Wince Upon A Star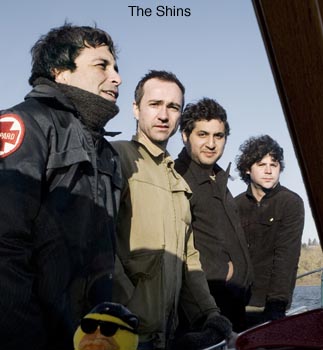 When Shins frontman James Mercer tells you he has taken up gardening, you wait for a chuckle that never comes while repressing a laugh of your own. It's not that Mercer doesn't have the right to garden, could be poorly equipped, or might be making a euphemism about cultivating hydroponic weed. It's just, you know, funny in a really dumb way.
Appearing: September 2nd at Charter One Pavilion in Chicago.
The Shins are a fine band and have nearly gone gold with all three of their albums, though no one denies, least of all Mercer, their profile was boosted with the help of actors Zach Braff and Natalie Portman. In a movie written and directed by co-star Braff, Portman's character shares her headphones with him and ostensibly the audience, and tells him the band she's listening to will change his life. The band? The Shins. The name of the movie? Garden State.
Gardening. Garden State. You can't make this shit up.
But Mercer isn't taking the piss and the fact he has time to garden speaks volumes about his current, um, state. Four years ago, when IE interviewed him prior to the release of The Shins' second album, Chutes Too Narrow (Sub Pop), he was a right mess. Upon relocating from Albuquerque, New Mexico to Portland, Oregon, the house he bought got robbed and the master tapes for the band's first album, Oh, Inverted World, were stolen. He had just canned bassist Noel Langford prior to recording, The Shins were taking a beating for licensing a song to a McDonald's commercial, and, as if to counterpoint his crumbling empire, keyboardist/guitarist Marty Crandall was dating a contestant on "America's Next Top Model." Even the release of Chutes couldn't abate life's conflicts.
"I moved; I got married," he begins his list, "but first I broke up with a girlfriend that was kind of a messy situation that we won't get into. This life bullshit; good things like falling in love and moving forward in that positive direction that I'm still on right now."
Eventually the stars fell back into place: He was able to rent out his house and find a new one, reap the benefits of the Garden State thing, and oh, The Shins' latest album, Wincing The Night Away, debuted in the second spot on the Billboard charts this past winter, the highest placement ever for Sub Pop Records.
On a July afternoon he's whizzing back to Portland from Seattle, where he attended the Stateside wedding reception of bassist/guitarist Dave Hernandez (who was married in Mexico). Yes, there might be a screaming infant in the backseat, but when he gets home there's some flora that misses him.
"We all kind of become a little reclusive after we've been stuck in the bus," he says. "What do I do? I spend time in the garden. I work on the house. We've got an old house that needs a lot of work."
There's a little more work to be done with The Shins this year, too. After embarking on a tour of the South Pacific and Europe, they wrap up their touring year as headliners of the Download Festival at Charter One Pavilion on Northerly Island on September 2nd. Now, however, is a good time for reflection and planning, assessment and strategy.
"We're paying more attention to . . ." Mercer fades before laughing, "we got a backdrop. We're trying to step up the live show a little bit. But at the same time, it feels really silly to take it seriously. We come from this real indie rock, fuckin' Pavement background where everything's tongue-in-cheek. We do want to do something cool and we understand the art project it can be. I don't know. We've worked out musically a much better set than we used to have."
Part of that better live set Mercer attributes to the addition of Chicagoan Eric Johnson (Fruit Bats, Califone). For the first time The Shins are a quintet, and trying to become a formidable live band.
"Having Eric Johnson in the band has been a huge development," he beams. "He adds a whole lot. [For] a lot of the songs I wish we had him with us when we recorded. He did a little bit of work on the record, but he was doing his own thing. I'm happy, happier than ever with the live show."
(Not everything Johnson brings to the table excites Mercer: "Eric is such a fucking huge Cubs fan he just bores me to tears.")
He reminds one of Wilco's Jeff Tweedy as he talks about Johnson. Proficient songwriter Mercer is just now learning what his band can be.
"He is somebody who is proficient, a proficient musician, which is why he's now in the band," Mercer laughs. "He can do all that shit I can't do. I don't have to learn anything."
One thing the band are learning is you can't choose your fans. Despite the respect The Shins have earned (Love As Laughter and Modest Mouse's Isaac Brock were early fans, opening for Pavement offshoot Preston School Of Industry, and releasing critically acclaimed albums), Mercer was concerned there might be some unprovoked hipster reprisals.
"I saw us becoming popular with the sorority girls," he muses, "and then none of the people we want to hang out with are going to give a shit about us. That was a fear, at least."
One film critic, in an attempt to destroy everything related to Garden State, derided the band as absurdly "inoffensive" and compared them to Coldplay. Then, as if shutting off escape routes, more writers backhanded Mercer and Wincing by saying he was retreating from fame.
"People just make stuff up," he sighs. "Retreating from fame? Well, I don't know. I think this record did better than the others. It wouldn't look that way.
"It's gotta be the Garden State thing," he continues. "I did worry we could have gone over the tipping point because of Garden State. Which is ridiculous. I worried that maybe — do you know the Malcolm Gladwell thing? He wrote this book The Tipping Point about this phenomenon where something that's hip becomes ubiquitous so that it's not hip anymore and it dies. Maybe I worried a little bit about that, but I didn't consciously try to lose people or anything."
— Steve Forstneger
To find out how the "retreat" criticism stands now, find the August issue of Illinois Entertainer, available for free throughout Chicagoland.