This month I'll give you a rundown on some new records and try to whittle down the ever-increasing stack on my desk. But first, the debut of the new "Caught In A Mosh" feature, My F'n Playlist.
It's pretty simple. A person of my choosing is given the hypothetical scenario one of his favorite band's entire catalog will be destroyed tomorrow, and he gets to choose 10 measly songs to last him forever. Poppin' the cherry on this thing is Scott Hedrick, guitarist for Cleveland's Skeletonwitch, whose Prosthetic debut, Beyond The Permafrost, is in stores October 2nd (sample the goods at www.myspace.com/skeletonwitch).
So, Hedrick's My F'n Judas Priest Playlist:
1. "Diamonds And Rust"
2. "Screaming For Vengeance"
3. "The Ripper"
4. "Freewheel Burning"
5. "Electric Eye"
6. "Exciter"
7. "Better By You, Better Than Me"
8. "Hell Patrol"
9. "Hell Bent For Leather
10. "Green Manalishi (With The Two-Pronged Crown)"
Disagree? Feel Hedrick omitted a crucial tune? I hoped so. Send your response to mosh@illinoisentertainer.com. I'll pick the strongest argument, print it in an upcoming column, and give Hedrick the chance to rebut. It's on.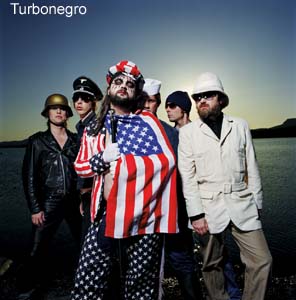 BOYS FROM NOWHERE: It's interesting Cooking Vinyl mentions every Turbonegro album up to 1999's Apocalypse Dudes in the band's bio but ignores the group's last two efforts, '03's Scandinavian Leather and '05's Party Animals. Maybe the Norwegian band consider their most recent, Retox (September 11th), the true follow-up to Apocalypse Dudes, but let's not forget Party Animals included one of the best Turbonegro songs ever in "City Of Satan," which served as the official Illinois Entertainer office anthem for many months. (It was eventually replaced by Edguy's "Fucking With Fire.") Retox is pretty good, but Party Animals was better, and I'm not going to waste our time with a "review." C'mon, it's fucking Turbonegro. Cock rock, hell-bent punk, double innuendo, cigarette butts, fat dudes with mustaches, huge hooks, jizz stains – you know the deal. Instead here are a few of my favorite Retox lyrical moments:
From "Hell Toupée" – "Other day I was doing a bump/then I found myself taking a dump."
From "Everybody Loves A Chubby Dude" – "I'm the Fat White Duke/I'm bulimic, but I never puke."
From "You Must Bleed/All Night Long" – "I'm right and you're wrong/you'll be licking my thong/all night long."
And last but not least, from "I Wanna Come" – "I wanna come/to the party at your house/I wanna come/but I can't get off."
THINK YOU'RE SPECIAL?: Are CDs becoming like DVDs where we hesitate to buy a new release because it's only a matter of time before a "special edition" shows up? It's been just more than a year since Stone Sour released Come What(Ever) May (Roadrunner), and less than 12 months later fans get a new fancy-pants edition. To the band's credit, they at least ensured the new edition wasn't a rip-off by packing on a whopping five unreleased tracks from May's original recording sessions plus a cover of Chris Issak's "Wicked Game" they cut live for a radio station. Also included is a DVD with an entire 2006 live concert from Russia and the music videos for "30/30-150," "Through Glass" (cameo by C.C. fuckin' DeVille!), "Sillyworld," and "Made Of Scars." Maybe because I was weaned on the Central Iowa metal scene that produced Stone Sour and frontman Corey Taylor and guitarist Jim Root's other band, Slipknot, I'm biased, but I think tracks like "30/30-150," "Socio," and "Hell & Consequences" are pretty decent meat-and-potatoes hard rock.
ALSO OUT: I have no idea who actually compared Winters to "funeral music with a hint of Ace Frehley at half speed" but there it is on the one-sheet for Winters' full-length debut, Black Clouds In Twin Galaxies (Candlelight). As absurd as it may initially sound, the analogy is quite accurate. Songs like "Two Wrongs Make A Right" and "Life Was So Simple" are bogged down in the same gooey muck and surrounded by the same smokey haze as the doom genre's forefathers, but Winters are rarely as abrasive as bands like Pentagram or Trouble, tending to lean more toward a cleaner, dare I say poppier, sound. (How many doom metal bands cite Elliott Smith and The Kinks as major influences?) Winters wear their Sabbath influence a little too proudly on tracks like "Aftershown," but those who are into Candlelight labelmates Witchcraft will dig this . . . They'll also probably dig Litmus' – another Candlelight act – Planetfall (Sept. 25th). Not as heavy, but more adventurous, Litmus are content to wave the space rock flag and obviously have studied Hawkwind's weed-and-sci-fi gameplan.
"CIAM" finally received The Cursed record, Room Full Of Sinners, which was released way back in May by Screaming Ferret. The band are instantly recognizable because they're fronted by Overkill singer Bobby Ellsworth and also feature former Hades guitarist Dan Lorenzo, but Sinners is a mixed bag. Lorenzo is a monster riffer who makes songs like "One Time" worthwhile, but Ellsworth is still an acquired taste, and his lyrics on opening tune "Sweeter" ("lick, lick/lick ya like a kitty will") make it really hard to take him seriously . . . I can't vouch for the entire record because nobody sent it to me (hint, hint), but thanks to Myspace I did hear two tracks ("Fucking Fertilizer," "Road Born Orphan") from local sludgemasters Sweet Cobra's new album, Forever (Hawth-orne Street), and they fucking slay, yo.
MEANIE: Kyle Jones, a Mesa, Arizona city councilman who represents the city's 4th District, hates heavy metal. Fine – to each his own. But this quotation, taken from an article in The Arizona Republic about his displeasure with the booking of Sounds Of The Underground at the Mesa Amphitheatre, shows what a closed-minded dick he is: "It's not what we want our image to be," Jones told the newspaper. "For me personally I'd just as soon we didn't have any of that kind of stuff." That kind of stuff? Educate this man by e-mailing him at councilmember.jones@cityofmesa.org. Remember vulgar, disrespectful letters signed by "Satan's Son" or "SLAAAYEEER" will only re-enforce his stereotypes. Organized, articulate thoughts are the key.
HAPPY B-DAY!: Metal Blade's current roster may or may not do anything for you (the new King Diamond, Give Me Your Soul . . . Please is awesome, though) but American heavy metal owes a huge debt to Metal Blade and founder Brian Slagel, who gave Metallica their first break and counted Slayer, Corrosion Of Conformity, and Armored Saint among the label's early roster. 2007 is the legendary label's 25th anniversary, and the coinciding celebration tour featuring Cannibal Corpse, The Red Chord, The Black Dahlia Murder, Goatwhore, and The Absence is at House Of Blues September 28th.
DJ MOSH: If you find yourself with nothing to do Sunday, September 30th, yours truly will be a guest DJ at Exit's CMF Metal Sundays. I'll be "spinning" some old stuff, some new, and whatever the hell else I feel like. Good times. You should come.
– Trevor Fisher
Category: Caught In A Mosh, Columns, Monthly