Crate
V-Series Tube Amplifiers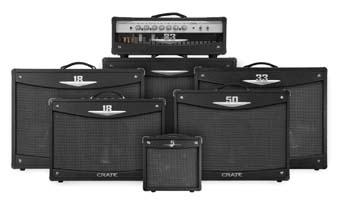 Crate have come a long way from their humble beginnings in the late '70s, and their acclaimed and newly freshened V-Series tube amplifier series is a prime example of their progress. The new-and-improved V-Series increases "voicing" and "tube responsiveness" while saving your aching back some stress with a 20 percent reduction in weight. Starting with the practice and studio buddy 5-watt V5 combo, this little amp features a single EL84 tube powering a 10-inch speaker. The larger 18-watt V18-112 comes in a singleor dual-speaker (V18-212) configuration with improved EQ and spring-reverb offerings. The more powerful 33-watt version (V33-212) sweetens the pot with channel switching plus boost and presence control. A separate head version, the V33H, is also available. The granddaddy 50-watt V50-112 is a channel-switching combo based on a pair of 6L6 output tubes for increased low end, making it ideal for club and studio boffins. The V50 offers clean and overdrive channels with a shared tone stack, global boost and presence controls, and a spring reverb. Retail ranges from $299 to $629. Visit www.crateamps.com for all the details.
Ultralife Batteries
PowerBug
Look out Energizer Bunny, PowerBug is ready to kick your booty! PowerBug is a 9-volt lithium battery Ultralife claim will last up to five times longer than standard alkaline batteries without having to pay five times the price. This allows musicians and sound guys to save a significant amount of money and eliminate the hassle of changing batteries after each gig or each set. PowerBug's technology has a flat discharge curve, meaning the battery operates at a higher voltage over a longer period of time, allowing instrument electronics to benefit from increased headroom and resulting in a much cleaner and crisper sound (the only magnetic components are the snap terminals, reducing noise while powering active electronics) that Ultralife say "alkaline batteries simply cannot match." If you are interested, keep in mind you can only order these babies at www.powerbug.com.
LIZARD SPIT
Guitar Polish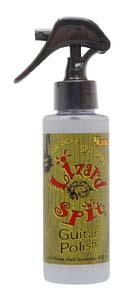 Lizard Spit Guitar Polish is not only a great name, it's eco-friendly too! Now distributed by Hosa Technology, the polish features a unique chemistry that makes carnuba wax bind to water molecules, while using a friendly non-toxic, silicone-free formulation that's safe for the environment. Lizard Spit Guitar Polish isn't just for the axe, though. It's multi-purpose and also safe for use on sunglasses, prescription eyewear, LCD and CRT computer screens, and many other metals, plastics, and painted, varnished, and lacquered wood. Hosa carry a four-ounce trigger spray bottle that sells for $8.95 and also offer other select Lizard Spit (made in Michigan) products like Fretboard Conditioner and a Lizard Spit Microfiber Cloth. For more details visit www.hosatech.com.
New & Notes
The amigos from the Texas Guitar Shows are back again in September (8th and 9th) at the plush DuPage Expo Center in St. Charles. As always, musicians will abe able to buy, sell, and trade their guitars and amps with dealers from across the United States. Admission is $10, but parking is free. Visit www.texasguitarshows.com for complete details.
– David Gedge