In honor of our January '07 "Best Of" issue, we've compiled our favorite pieces of "Gear" from the past year.
Gretsch
G400JV Archtop Guitar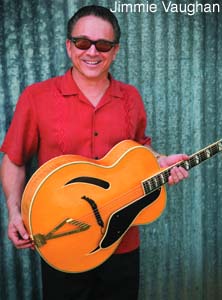 (September) Our favorite guitar in '06 was Gretsch's G400JV Jimmie Vaughan Synchromatic Archtop that combines a killer acoustic guitar with an elegant '50s art deco electric archtop body. With its Fishman archtop acoustic pickups and silky smooth finish, this was a guitar we just had to have. Retail price is $2,900. More information can be found at www.gretsch.com.
HOTTIE
Custom GT Amp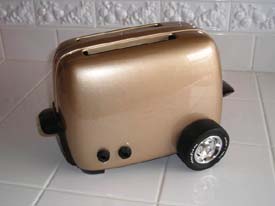 (April) Best amp of 2006? No contest – the Hottie! At first glance the Hottie Custom GT Amp looked like a practical joke. Housed in a toaster (yes, a friggin' toaster!), Hotties are solid-state amps fitted where your Wonder Bread went. The unit is outfitted with a nine-volt battery that powers a 6-inch Jensen MOD speaker with an external speaker cabinet jack. Decked out in a vintage automotive-style paint job and kitschy mag wheels, Hotties are hotter than you know. The GT sells for $249 – a bargain for a conversation piece and a cool little amp. For more information visit www.hottieamps.com.
Coffin Case
G3x1
(May) When you must have three Jimmy Vaughan guitars, the G3x1 from Coffin Case is the way to transport your axes. Its vampire-like design is made of road-ready, solid-wood construction with a black vinyl exterior, a mesh storage pocket, three handles, and slide rails for easy transport. Its soft plush interior and deep-well bottom has a design Bela Lugosi or Bela Fleck would love. These cases sell for about $229.95. Check out www.coffincase.com for all the details.
Hughes & KetTner
The Tube Clock
(February) Hughes & Kettner's Tube Clock looks like a miniature Hughes & Kettner tube amplifier, but it's actually an expensive, but cool, limited-edition clock housed in a chrome chassis with six visible Nixie tubes displaying time to the second. The Tube Clock features separate controls for display and tube brightness and a built-in power buffer for surges. Suggested retail price is a whopping $399, but for Hughes & Kettner fans it might just be worth it. Visit www.hughes-and-kettner.com or Fat Cat Guitars in Carpentersville for full details.
IMI innovations, INC.
Mobius Media Suite
(January) Naperville's IMI Innovations (formerly MICE Technologies) came out with the most unique music software of '06 based on the idea two mice connected to your computer is better than one. They created a bi-manual software program (Mobius Media Suite) that allows musicians to use two input devices (mice/track pads) independently, recreating tasks on their computer by scratching and adjusting faders simultaneously on a DJ mixing console or electronic drums. Stanford University's Douglas Engelbart invented the first computer mouse in 1963; IMI Innovations believe it's time that little rodent got updated. Visit www.micetechinc.com for more details.
Andy Mason Guitars
The Mermaid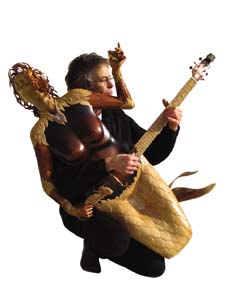 (October) Only a guy who built a triple-neck guitar for Led Zeppelin could devise something like The Mermaid. Part Jules Verne wet dream, part high-end guitar, Andy Manson's "ultimate creation" is still being bid on at www.shop4thelot.com. Built with a cherry-and-sycamore mermaid body and a maple-and-mahogany guitar neck and body, The Mermaid can still be yours. The current bid as of press time is about $34,000, and 50-percent of the proceeds go to Harvest Help, an organization supporting communities in rural Africa. Mason's warm English charm came through on the promo DVD as he commented on his three-year labor of love: "As you can imagine, with the time, effort, and materials used in her construction, she is worth a considerable sum. As I stand to make a lot of money from her, I want her existence to benefit others – not just myself and the winning bidder. Naturally, I would love to see her go to a guitar player, though." FYI, bids must be in English currency. Visit www.andymanson.co.uk for more details.
– David Gedge