Let's call it a comeback. No need to mince words. Colombia's premiere rock en español group were on a scary path toward losing the essence of their Latin alternative roots. Their last two albums, 2001's Gozo Poderoso and 1998's Caribe Atomico, ditched rock elements for electronica and trip-hop, respectively. The results were meandering and unsatisfying for the fans that were fueled by the riveting songwriting and traditional rhythms of classics like La Pipa de la Paz and El Dorado. With the release of their sixth album, Oye (Nacional), Aterciopelados (velvety ones) live up to their Simone de Beauvoir referenced name as well as the title of Colombia's greatest band.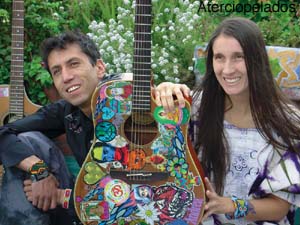 As with the best magic-realism tale, Aterciopelados took a long, colorful journey to arrive at their musical pinnacle. Founding members Andrea Echeverri and Hector Buitrago joined forces in 1990, amid Bogota's fledgling rock scene. While Buitrago's background featured playing in the punk band La Pesitilencia and soaking up sounds from Yes, Deep Purple, and Led Zeppelin, Echeverri had been studying ceramics and hanging out with art-school scenesters. They turned out to be a lively match indeed. The pair opened one of Colombia's only rock clubs and set out to make their own brand of rock: heavy on the guitars and bass but with a distinctive Colombian flavor. The punk drumbeat gave way to the more organic rhythms of llanos, jaropo, and boleros. By the time they released their second CD, El Dorado, in 1995 their music was being played on MTV Latino, and they were superstars all over Latin America.
Unlike fellow Colombian icons (Shakira, Juanes) however, Aterciopelados maintain a different sort of image. Echeverri (vocals, guitars) for one, refuses to trade in on her sexuality, eschewing provocative clothes and seductive moves for long, un-styled hair and various tattoos and piercings. Shy and unassuming, Buitrago (bass, producer) concentrates on arrangements and production that's decidedly more challenging than the typical Latin pop blockbuster. The results of all this have earned the group reverential status unchallenged by even a five-year hiatus and critically acclaimed music that addresses political/social concerns while simultaneously pushing cultural and musical boundaries.
Technically, while Aterciopelados the group have been absent for awhile, Echeverri and Buitrago each released solo albums in the last year, with Echeverri's self-titled feminist ode to pregnancy and motherhood garnering two Grammys. It seems the two solo projects were just a warm-up for the real thing, however. Commanding attention from the title onwards, Oye (listen) rewards listeners with an elegant mix of swirling folkloric rhythms, ironic lyrics, and a pure rock beat.
The opening track, the contagiously bouncy "Complemento," is all clangy guitars and urgent singing, losing no time in assuring doubtful rockeros Aterciopelados are back with a vengeance. Despite the peppy delivery, the tune boasts political undertones disguised as a love song: "You give me what I lacked/what before I didn't like/the other half of my orange/you being where I leave off." At first glance, it's about soulmates balancing what the other lacks. On another level, it addresses the need for tolerance. "Don Dinero" questions consumerism over a rousing hook decorated with mariachi horns and joyful yelps. The riveting "Cancion Protesta" glides with an anthemic chorus and Andean flutes. Condemning a trailing list of problems, from terrorists to the fumigators who spray poison on Colombia's cocaine plantations and kill large areas of national parks, the song calls for change in the guise of Echeverri's supple alto.
Echeverri's vocals prove to be as effective as Buitrago's innovative arrangements in creating a nuanced, emotionally accessible album. Famously feminist, Echeverri's voice leaps beyond any expectations of sexual musical roles. At times luminous and soothing, her voice can also sound aggressive and discordant, making it the perfect tool for a CD that effectively straddles elements of rock, sensuous boleros, and traditional Latin rhythms.
A call for peace, "Paces" is a straightahead cumbia track that delves deeper into Latin roots than the group have ever dared, successfully uniting electric guitars with indigenous percussion for an updated version. The ethereal "Majestad" actually dabbles with Indian tabla and chanting, while "Oye Mujer" uses a new wave riff and Echeverri's gruff delivery to ask women if it's O.K. to look like a Barbie doll and be an erotic fantasy for men.
Although Aterciopelados have all the expected trapping of success, from platinum sales to a "Tonight Show" appearance to multiple Grammy nominations, the band's focus has never been about fame or success. Living in a country torn by a never-ending civil war, they have been resolute about expressing their Colombian identity and sending a message of hope and awareness. Oye was recorded entirely in Colombia, with local musicians. They have turned down record label offers to move to the States and sing in English. In the end, their allegiance to their roots has brought them many achievements but in their words, la musica es amor, and that's the best reward of all.
2006 Best World Albums:
1. Tanya Stephens, Rebelution (VP)
2. Thandiswa, Zabalaza (Escondida)
3. Sara Tavares, Balance (Times Square)
4. Aterciopelados, Oye (Nacional)
5. Salif Keita, M'Bemba (Decca)
6. Asha Bhosle, Love Supreme (Times Square)
7 Morgan Heritage, Live: Another Rockaz
Moment (VP)
8. Sergio Mendes, Timeless (Concord)
9. Mary Jane Lamond, Suas e! (turtlemusik)
10. John Holt, I Can't Get You Off My Mind : 18
Greatest Hits At Studio One (Heartbeat)
– Rosalind Cummings-Yeates