href="https://illinoisentertainer.com/wp-content/uploads/2011/05/passed-out-drunk.jpg">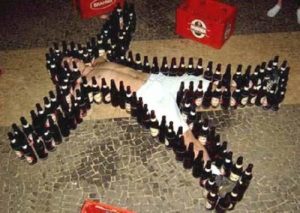 Chicago Craft Beer Week closes today, and with it comes our final beer/music pairing. It's been a stammering, waistline-expanding ride and we'll finish by equating some of the newer concotions we sampled with some newer artists.
Making its wares more widely available, Chicago Brewing gave its Belgian White Ale a good push this week. Summery to the core, its coriander and citrus notes require no floating garnish to sully your manly rep. If it were a band, it'd be Wild Beasts.
Goose Island's overworked custom shop unveiled two more creations (and infatuations with womens' names), Eva and Marisol. The former is a really tart saison, with a remarkable punch of cherries that the pourer described to us as "if you like Sour Patch Kids." The latter has its work cut out, a Belgian white that will have to compete with Goose's already crowded field of mainstream abbey-style beers. Eva would be Little Scream and Marisol would be Company Of Thieves.
We finally got our hands on some of Flossmoor Station's treats — both the Pullman Brown Ale and what was marked as a saison (but we couldn't find on its site). The award-winning Pullman is a meal. A deep, rich brown that makes Newcastle taste like a Jello shot. Its heartiness means it should be your first beer of the night (not the sixth sample, in our case), though its nuttiness (as in legumes) keeps it lively and a little further down the line from Half Acre's Over Ale. It would be The Henhouse Prowlers.
Finally, recently we were delighted to down a pint of Marston's English Pale Ale in a west-London pub. EPAs differ from IPAs in a shorter maturation process, and thus have a brighter taste and complexion. It also marries the world of traditional bitter beers and typical English ales, while adding accents not uncommon with some Belgian varieties. It's the Leisure Society of beers.
— Steve Forstneger
For each (business) day of Chicago Craft Beer Week (May 19-27), we're pairing an artist with a brewer. Click for Day One, Day Two, Day Three, Four, Five, and Six.