Two Brothers Session Ale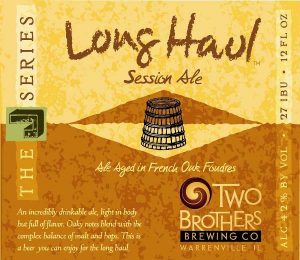 For the next week or so, we'll be following Chicago Craft Beer Week with our own beer/band pairings. Click on for your first sample.
It seems logical to begin this project with a local brew, one as easily purchased from corner stores, Jewels, Traders Joe, and bars as specialty shops. Warrenville-based Two Brothers, like most of the prominent craft brewers, fancies ales over lagers and gamuts as much as it can from the summer special Hop Juice to the more moderate French country ale, Domaine DuPage.
Though it currently pushes the crisp Dog Days German lager and more complex Monarch white ale, theLong Haul Session Ale comes more suited to this schizophrenic winter/spring/summer thing Chicago has going on. Studiously malty but packing hops in reserve, it has relatives in both Half Acre's Over Ale and Budweiser, er, Goose Island's Hex Nut Brown Ale. The nuttiness is what dominates the taste, without overpowering. A slight twist of citrus seems to tie off the ends, while retaining the rustic overtones.
If this beer were a band, it'd be Fleet Foxes.
— Steve Forstneger
For each (business) day of Chicago Craft Beer Week (May 19-27), we're pairing an artist with a brewer. Click for Day One, Day Two, Day Three, Four, Five, and Six.
Category: Weekly