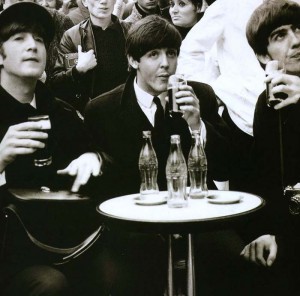 The irony of naming four beers to represent The Beatles during Chicago Craft Beer Week, is that they're all much more enjoyable as solo acts than they are when you mix them together.
A mixture of sly and sincere, bold and murky, Goose Island's Pere Jacques sinks the notion that all Goose's Belgian ales (Matilda, Sofie) deal in fruity bouquets and instant gratification. When you decant it, the first thing to notice is its dark color and quickly evaporating head. Sweeter yet less acidic than its cousins, the malty flavor is just strong enough to lessen the blow of its 8-percent punch. If it were a Beatle, it'd be John.
Perky, but — at 5.2 percent — no lightweight, New Belgium's Somersault Ale aims to please those put off by Flat Tire's near constant heaviness. More a snack than a meal, its rudimentary pale-ale base gets a lift from a multitude of citrus florets. Fine for a night out, but Somersault's best as a complement to grilled red meat, yet maybe too peppery to handle a basket of fries. If it were a Beatle, it'd be Paul.
This next one was difficult. It needed to be a comparatively younger beer style, yet deeply imbued in classic models, while chronically underutilized. Who knows if any of those things encapsulate black India ales (a.k.a. black IPAs), though it's what we'll shoehorn Stone Brewing's Sublimely Self-Righteous Ale into. The reason they're called black Indias is because people can't wrap their heads around a simultaneous pale and black beer, and the color is almost like an amber coffee. It's not all stout, however — though chocolate has a definite presence — and the resolute hops give it a unique twist. Anyway, by use of the word "India," you've surely figured this beer is George.
With the rash of flavored beers — shandys, pumpkin, berry — the infusion of beets would surely be the nadir of brewers' decadence. Surprisingly, Magic Hat's Wacko summer seasonal tastes a lot like beer. It doesn't look it: the deep red recalls either black-cherry soda or pomegranate juice. Other than the hue, the beet's main contribution is its sugar, which doesn't offset the hops and malts anymore than whatever's going on in Magic Hat's banner beer, #9. Offbeat yet solid, if this beer were a Beatle, it'd be Ringo.
— Steve Forstneger
For each (business) day of Chicago Craft Beer Week (May 19-27), we're pairing an artist with a brewer. Click for Day One, Day Two, Day Three, Four, Five, and Six.
Category: Weekly