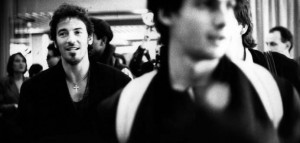 Everyone needs a go-to beer. You don't feel right showing up at a party with a domestic, are non-plussed by most supermarket imports, but never see the same lineup of microbrews in different stores. Why not know a couple sturdy ones?
For today's Chicago Craft Beer Week music/beverage pairing, we're going with Bruce Springsteen in the '70s: brilliant, powerful, consistent, and varied just enough to keep things interesting. A lot of people made the same kind of music as the Boss, but not many did it well. As such, not all pale ales are created equal. Some are pungent, others heavy, and others yet can be grainy. Here are five you cannot go wrong with:
Bell's Two-Hearted Ale (Born To Run)
A bright amber color, but somehow creamy without the frothiness of Boddington's/Caffrey's. If you're just looking for something good to drink, this is hands-down the Midwest's finest pale ale.
Three Floyds Brewing Alpha King (Darkness On The Edge Of Town)
A close second to Two-Hearted. We don't know what's up with the Floyds' art on its carriers, and frankly it might scare people off. More for us, we guess.
New Holland Mad Hatter (Greetings From Asbury Park, NJ)
Despite the cartoon of a lunatic, this isn't a gamble at all. Maybe fewer fruit touches than its competitors, but easily the crispest of this lot.
Half-Acre Daisy Cutter Ale (The Wild, The Innocent, And The E Street Shuffle)
Admittedly, you could pour a pint of their Gossamer Ale and we couldn't be able to tell the difference. That's a mark of quality, however, and knowing your customers.
Stone Ruination (The River)
At nearly $20 a sixer, you won't be drinking it every day. Unlike similarly priced Bell's Hopslam, you won't be burping hops for a week. You might find yourself justifying steak for every meal, however.
— Steve Forstneger
For each (business) day of Chicago Craft Beer Week (May 19-27), we're pairing an artist with a brewer. Click for Day One, Day Two, Day Three, Four, Five, and Six.