Blue Ladies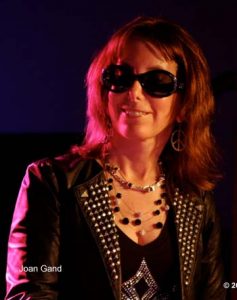 This year's Chicago Blues Fest includes Shemekia Copeland, an all-star Robert Johnson centennial salute, and harp master Billy Branch & The Sons Of The Blues. But another Blues Fest must-see kicks off on opening night, after the actual festivities are over.
"I was looking at the Chicago Blues Fest lineup and I noticed that there weren't very many women featured this year," says Joan Gand of Gand Music And Sound. "My husband said, 'Well, why don't you do something about it?'" So she did. As frontwoman of the blues ensemble Joan Gand And Blue Road, Gand knew scores of blues women so she took to social media. "I got on Facebook to get together a group of blues singers and everyone wanted to do it," she says. "Within 24 hours, we had nine women and I thought, 'We have to dedicate this to Koko.'"
"Chicago Women In The Blues" showcases this tribute-based nonet on Friday, June 10th, at Reggie's Music Joint, 2105 S. State. "There hasn't really been that much done as a tribute to her, but Koko Taylor was an icon of the Chicago blues all over the world," says Gand. "We need to appreciate what she did here. There's few other women blues singers as iconic as Koko."
With Blue Road as the house band, the performers include Hollee Thee Maxwell, who sang with Ike Turner after Tina left; noted belter Peaches Staten; Vance Kelly's daughter Vivian Vance Kelly; Eddie Taylor's daughter Demetria; slide guitarist Donna Herula; local faves Liz Mandeville & Ramblin Rose; Dia Madden And The Cruise Machine; and Taylor's niece, Ebonie Taylor. The show will kick off with the women taking turns singing "Wang Dang Doodle" and end with a past-tense version. "We'll probably make it a regular thing and honor Koko every year to make sure her legacy remains in Chicago," says Gand. Visit www.chicagoblueswomen.info; a Reggie's shuttle will move between the fest and the club.
Another Blues Fest highlight is the Alligator Records 40th Anniversary Celebration. On closing night, June 12th, Alligator will host a cavalcade of its stars to celebrate the milestone. Blues guitar master Lonnie Brooks will headline, and he'll be joined throughout the show by roster standouts guitarist Michael "Iron Man" Burks, harpist Rick Estrin, pianist Ann Rabson, and Eddy "The Chief" Clearwater. The show promises to capture some of the excitement of the recent Alligator Records 40th Anniversary Collection released in February. The two-CD album supplies 38 tracks spanning a diverse sampling of the label's output over the last two decades. Early greats, like Hound Dog Taylor, Son Seals, Koko Taylor, and Carey Bell are presented alongside contemporary artists like Lil Ed & The Blues Imperials, Burks, and Janiva Magness for a true gumbo of blues styles.
Blues Fest does a decent job of making the genre accessible to all kinds of music fans, but you can't truly appreciate the blues unless you know some of its history. There are tons of books that delve into the complex lore, but the Big Bill Broonzy biography, I Feel So Good: The Life And Times Of Big Bill Broonzy (University Of Chicago Press) by Bob Reisman published this month, probably delivers the most relevant Chicago-blues memoir in recent memory.
A legendary figure who helped shape Chicago blues from the '30s through the late '50s, Broonzy had undeniable influence on Muddy Waters, Howlin' Wolf, and countless blues and rock musicians. He was a mythical character whose storytelling prowess extended to his own life, so Reisman dedicated 10 years to uncover the man behind the legend and his findings prove especially illuminating.
Opening with a pivotal scene of Broonzy's 1958 funeral, whose guests included Mahalia Jackson, Studs Terkel, Waters, Sunnyland Slim, Little Walter, and Tampa Red, Reisman sets the tone for a biography that uses a strong narrative as well as facts. The first significant fact is that Broonzy's name was not Broonzy or even William. Reisman uncovers family records that reveal the bluesman's original name (Lee Conley Bradley), revealing Broonzy also created a family history that served to enrich his songs' tales of poverty, injustice, and hope in the turn-of-the-century South.
— Rosalind Cummings-Yeates
Category: Columns, Monthly, Sweet Home