Rapture Recordings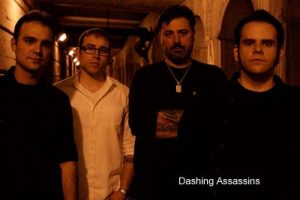 When Chicago's newly formed Dashing Assassins went to the record at MOTHERSHIP STUDIOS in Chicago on May 21st, they weren't sure if they'd come out alive after laying down tracks during the not-to-be Rapture. While tracking a six-song LP due this summer, guitarist/vocalist Erik LaVergne tells IE that, despite the pending armageddon, "The band luckily came out on the other end.
"We have been releasing songs piecemeal on iTunes and Amazon.com, however, CDs will be available at our Double Door on July 16th." Alas, the guys from Dashing Assassins were not the chosen ones by a higher power, but the band (Roberto Gonzales, vocals/guitar; Jason Wilhelm, drummer; Erik LaVergne, guitarist/vocalist; and Dick LaVergne, bassist/vocalist) hope they'll be one of your chosen bands this summer.
Jim Hanke from Kid, You'll Move Mountains dropped us a note to let us know that the band are currently working on their second album. They recorded drums at CirClegetsquare studio in Chicago with Josh Miller (Troubled Hubble, Picture Books) as engineer. The band have been adding tracks of "instruments" at their home base in Elburn in the meantime. They're hoping for a late summer/early fall release. The kids recently opened for Dismemberment Plan's sold-out reunion show at Metro, where they debuted much of the new material from the forthcoming album.
Long-time Chicago reggae hotstepper Stann Champion and his band Roots Rock Society have released a new single, "Cost Of Living," on RRS International Records. The single MP3 will also feature two bonus tracks. (We'd say that makes it an EP.) The music was recorded at Studio 85.1 in Chicago, and tweaked at Circle house Studios in Miami, Florida, with James Wisner and assistant Brian Diehl. Finishing touches were added and mixed at Airstream Audio in Chicago by David Axelbaum and a final mix was completed by "Buggs" Parkinson, who found assistant production from Al Gibbs/Dub Dis Music. The EP was mastered by Danny Leake. To keep all his houses in order, we're sure Champion has several thousand other people he'd like to thank. Downloads are available at www.rootsrocksociety.com
At RAX TRAX Studio in Chicago, Audio Tree's debut signing, Kellen & Me, recorded a marathon, morning-to-midnight session where he – yup, Kellen & Me is a he – completed four new demos. While a debut CD/LP is presently being manufactured for a June 7th digital release, Kellen is burning the candle at both ends by deman-ding that the next batch of Rax Trax rec-ordings resume after an early June tour that starts in Mil-waukee, and criss-crosses the Midwest in-cluding one of our favorite towns north of the border: Neenah, Wisconsin.
At UPTOWN RECORDING in Chicago, locals Madina Lake (see their mention in "File") were back in yet again to complete drum tracking on 11 new songs. This will be for their third full-length album, to be released via Razor & Tie. The folks at Uptown commented, "These are some great songs and the drum tones on them just as great." The band come to town with Warped Tour on July 9th at First Midwest.
Hey Studiophiler: To get your studio or band listed in "Studiophile," just e-mail info on who you're recording or who's recording you to ed [at] illinoisentertainer.com, subject Studiophile, or fax (773) 751-5051. We reserve the right to edit submissions for space. Deadline for July 2011 issue is June 15th. We need your news, you need us to print it.
Category: Columns, Monthly, Studiophile