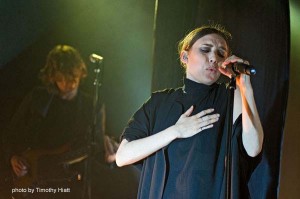 Though she's set to take the stage later this summer as part of this year's Lollapalooza, Swedish songstress Lykke Li hit town Monday the 23rd at Metro in support of her 2011 effort, Wounded Rhymes (Atlantic).
For a full photo gallery, visit illinoisentertainerphoto.com.
Decked in a long, black robe-like dress, Li split her attention throughout her set between singing, dancing, and banging one-handed on a drumset to her left. Over the course of the evening, the singer slinked through a set that alternated between haunted harmonies and dark and driving dance pop, sometimes switching between the two at breakneck speed.
Indeed, moods and musical cues alternated from song to song, with the sleepy, swaying choir gospel feel of "Sadness Is A Blessing" giving way to the cheery groove of "Dance, Dance, Dance." Otherworldly vocal harmonizing took hold in the seductive "Love Out Of Lust," while "Rich Kids Blues" became an all out assault of rumbling drums and clattering cymbals. And "Youth Knows No Pain" became impressively intense with an added tease of Kanye West's "Power" added to its bridge, with Li shouting her song's chorus into her megaphone over the sample.
By the end of the night, the songbird's harmonious soul pop selection "Unrequited Love" displayed both her vulnerability and her versatility, not to mention an undeniable stage presence. In a night of wounded rhymes, Lykke Li was far from down for the count.
— Jaime de'Medici
Category: Featured, Live Reviews, Weekly