In Da Club?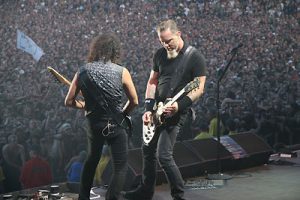 We couldn't find any local chapters at press time, a semi-disappointing discovery in a city that prides itself on its uprising and cliques. So, we cast our vote for someone to join the Music Monitor Network/Coalition Of Independent Music Stores' "Metal Club," a group of brick-and-mortar retailers pushing to build strong community with metal fans. (Metal Haven would have been perfect, R.I.P.) What are the membership benefits? Well, unlike the Metallica (pictured above) fanclub, which doles out such garbage as "Livin' To Win" T-shirts, Grimey's in Nashville hosted an intimate (150 capacity!) Metallica concert in 2008 and affiliated stores will be privy to Live At Grimey's, releasing via Warner Bros. on the 26th. Other exclusives include a 10-inch Anthrax single, deluxe vinyl for Slayer and Queens Of The Stone Age, special editions of the new Monster Magnet, and a Job For A Cowboy collectors' set. Visit mymetalclub.com for the nearest shop.
Play The Blues, Hick!
O.K., so Jon Spencer won't be yelling the above at Judah Bauer this fall, but if Blues Explosion were playing the Chicago Bluegrass & Blues Festival (December 3rd through 5th) he might. The third edition of the annual roots gathering plots wider boundaries than those of us who cling to genre limitations would, posting headliners Edward Sharpe & The Magnetic Zeros (a Laurel Canyon mix from a former indie rocker) and Grace Potter & The Nocturnals (libidinous Sheryl Crow meets Allison Moorer), also dedicating space to David "Honeyboy" Edwards and The Skatalites. Unlike some other local gatherings, CBGB (it actually goes by CBB, but it's truer to CBGB's roots than the real CBGB is) emphasizes local talent, so you also get The Giving Tree Band, Van Ghost, Sexfist, Daphne Willis, The Right Now, The Shams Band, Jaik Willis, and many more. Visit cbbfestival.com for ticketing information.
The Daley News
We've lived through two Bush administrations and now the second of two Daley reigns is set to end, the latter of which inspired an outpouring of retrospectives from Chicago-based arts columnists last month. Given that he's been in power since '89, Little Richie's command was sure to have its enemies, though not much perspective has been given in light of his predecessors. Daley II's legacy will always suffer in comparison to the late Harold Washington's, who marshalled and booked the German-American parade in 1985 that culminated with a North Shore teenager commandeering a float and delivering a blistering lip-synch of "Twist & Shout." Jane Byrne gave us the Taste Of Chicago, paving the way for countless past-their-prime acts to soundtrack a million rib-sampler sales, but she also came down hard on our burgeoning punk scene. Michael Blandic's folly will forever remain the Canadian rapper Snow and, as for Daley's da, his influence on the local folk scene remains unmatched. So long, sir. We'll always have guacamole.
Next Issue: Fuji Vs. Mandarin
Years ago on Daytona Beach, buzzed on cheap brandy and having accidentally inhaled some Cuban cigar smoke, I challenged a friend – now a lawyer – by alleging Kiss' influence on rock 'n' roll was comparable and perhaps more crucial than Bob Dylan's. I didn't even like Kiss all that much, however my opponent L-O-V-E-D him some Dylan and I drew thrills as a schadenfreude. I was also 17. This fall, Chicago's pop-critic chieftans Jim DeRogatis and Greg Kot reprise those roles with a Beatles v. Stones faceoff in Sound Opinions On The Great Rock 'N' Roll Rivalry, a 194-page exercise in . . . well, you decide. Ultimately, the lesson is we have to keep publishers away from DeRo. He's a fine scribe and impeccable rock historian, but following some great treatises on psyche rock he's served up the juvenile Kill Your Idols provocation and now this. Don't take Kot down with you.
— Steve Forstneger