Held Up For All To See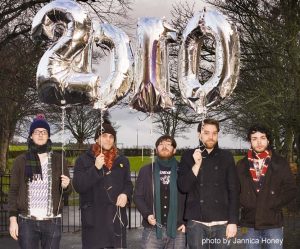 Dig if you will the picture: Early evening on a pleasant Chicago day in August (which by definition is an anomaly) as throngs of people huddle in a space shaded by a canopy of trees and foliage found off of the beaten path near Grant Park. The last day of Lollapalooza 2010 is in full swing and five Scotsmen of the palest sort saunter onstage to deliver rousing anthems that beg for arm-flailing, fist-pumping audience participation.
Appearing: Thursday, November 4th at House Of Blues (329 N. Dearborn) in Chicago.
Turn the volume off and observe as if muting a TV show and the scene's cast of characters could be mistaken for a gaggle of Lady Gaga fans (despite a lack of glowsticks and fierce face makeup) based on intensity alone. Release the mute button and something unsettling happens to those uninitiated in the ways of the Glasgow-based outfit known as Frightened Rabbit. The lyrics everyone belts at a fever pitch come into sharp focus and instead of emotions akin to pop pleasures found in "I Want To Hold Your Hand," the collective shouts relay the following messages word for bitter word: "It takes more than fucking someone to keep yourself warm"; "I think I'll save suicide for another day"; "I am armed with the past and the will and a brick, I might not want you back, but I want to kill him."
Heavy sentiment for a pre-sunset slot, but such is the band's appeal. Since forming in 2003 and steadily adding members, frontman and primary songwriter Scott Hutchison's acute heartbreak fuels the band's material and the allegiance of its fans. If this bloke can have his heart shot to smithereens and not only live to tell the tale, but get up night after night and restate the sordid details, then we all have a fighting chance to dig ourselves out of the hole created by an unforgiving lover.
The constant regurgitation of the themes expressed on Frightened Rabbit's 2008 release The Midnight Organ Fight might fell a weaker man, but Hutchison takes it all in stride. "It's not about reliving it," he says in the thickest Scottish accent on the phone from home in Edinburgh. "I think I've long since stopped reliving anything. It's something I've become accustomed to. But now, really, the nice thing is that I almost feel I'm just like a sort of messenger to the songs. All the sentiment behind the songs – the things at the time of writing – have been beaten away. It's nice that it's deadened in that way."
When asked if he finds it disturbing at all that people seem to find such visceral enjoyment in his post-breakup exploits, he immediately dispels the idea. "It's one of my favorite things to flip all that stuff on its head and then have these really really joyful moments in our set that stem from just honestly some of the most bad and deepest parts of my life.
"It's a fantastic feeling actually," Hutchison continues. "When people come to the shows, it's release."
The band's follow-up, The Winter Of Mixed Drinks (Fat Cat), finds Hutchison in a brighter mood, yet not without his trademark skewed view of the world. Jenny Lewis told the Los Angeles Times earlier this year, "You get happy, and then what do you have to write about?" A rosier outlook didn't quell Hutchison's progress in putting words to paper or charging, chaotic melodies to guitar strings, although he admits it was "a challenge for it to be lighter."
The pulsating, staccato "Living In Colour" references pine boxes used for hosting bones into eternity while the yelping "The Loneliness And The Scream" – well, the title alone foreshadows the song's urgent propulsion to stand up and say, "look at me, I do exist" in the face of an uncertain future. The bouncing "Swim Until You Can't See Land" actually lives up to the lighter waving and communal swaying discussed previously, while "Foot Shooter" could serve as the Scottish take on Homer Simpson's forehead-slapping catchphrase.
— Janine Schaults
For the full interview, grab the November edition of Illinois Entertainer, available free throughout Chicagoland.