Schubas, Chicago
Thursday, April 15, 2010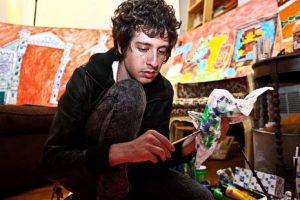 Like The Frogs, it seems it's easier to find people who shiver at the thought of Adam Green than support him.
And the cover of his new Minor Love is reason enough to draw an anxious breath before turning it on. Looking like Coney Island Lou Reed but frozen in a poncey sashay, you can practically smell the awkward turns of phrase and bathroom puns that are coming. Green seems to live for moments like these, as he did when Moldy Peaches opened The Strokes' first headlining tour and when he penned the minor novelty hit "Jessica Simpson." Even the Peaches' twee Juno hit "Anyone Else But You" seemed to be taking the piss out of the genre.
Yet where he's shown Leonard Cohen tendencies in the past, he finally falls on that side of the fence with Minor Love. He refuses to play it entirely straight, but skeptics might begin to see — with standouts like "What Makes Him Act So Bad" — what all his famous friends have been raving about.
The Dead Trees open.
— Steve Forstneger
Category: Stage Buzz, Weekly