Abbey Pub, Chicago
Saturday, April 10, 2010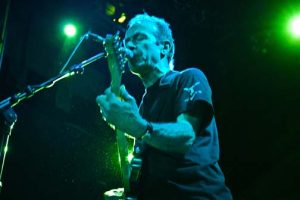 "My Generation" and its ilk get more ridiculous each time their creators perform them, but 30-years later "Peaches" is just coming into its own.
When Hugh Cornwell first sang it as a member of The Stranglers in 1977, he was a leering pub-rocker caught up in punk filth. Back then it was a loser filling his spank-bank with co-eds, now it's a hairy-backed old man fidgeting on a park bench. Cornwell and the band were slightly out of touch with the times with their Doors influences and mischievous sexism, skirting violence and inconsistency but always landing near the top of the charts. A brief dalliance as synth-pop heroes is the only blip in their idiosyncratic trajectory.
Cornwell has performed solo on-and-off over the years, with last year's Hooverdam — a free download — serving as his eighth record. Eschewing modernity, it places his feigned disinterest over surprisingly agile '50s rock. Though it's more in line with Roky Erickson's post-Elevators output, it's just more proof that acting your age can be surprisingly beneficial.
This is an earlier, separate show from Pnuma at 11 p.m.
Click here to download Hooverdam.
— Steve Forstneger
Category: Stage Buzz, Weekly