Judas Priest
Nostradamus: Priest's Prophetic Project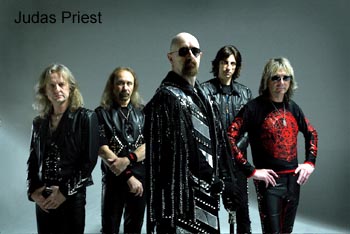 Who could have predicted a band who've been around since the beginning of time (more precisely, since the inception of heavy metal) would produce such an audaciously ambitious project? Judas Priest's Nostradamus is a 23-track, double-CD concept album. Unlike the central figures in other such releases like Pink Floyd's The Wall, The Who's Tommy, or Iron Maiden's Seventh Son Of A Seventh Son (also a seer), Nostradamus actually existed. With orchestral elements, Rob Halford's piercingly high and alternately resonant low vocals, and one cut mainly sung in Italian, it almost deserves to be called a metal opera.
Appearing: 8/19 at First Midwest Bank Amphitheatre in Tinley Park.
Calling at a most ungodly (metal or otherwise) hour in the morning from Dusseldorf, Germany, Halford spoke about the project and the man on whom the work is based. Nostradamus "is definitely famous for predicting things — Napoleon, Hitler, the alleged end of the world in 2012. He's just a very controversial figure 500 years later."
But there is disagreement about the accuracy of the 16th century French prognosticator's predictions. "There is so much about him that can leave you confused," Halford admits. "What we basically tried to do was stay as true as we possibly could to the significant moments of his life, not get too involved with the prophecies for which he is famous."
Halford acknowledges the band did address one of Nostradamus's apocalyptical prophecies in one of the new songs, "The Four Horsemen." It's a reference to the New Testament's Book Of Revelation, which is as significant to metal as it is to the currently faddish apocalyptic, end-times mass media, like the Left Behind book series. Nostradamus was not a prophet of the Old Testament, you'd-better-shape-up-or-else sort. His predictions were more on the order of the Revelation To John and the ancient Greek oracles, who simply foretold the future and left out the warnings. (Recall the Oracle Of Delphi, who foretold Oedipus's fate to kill his father and marry his mother.) Some recent scholars have cogently argued that Nostradamus' rhyming quatrains were not even meant to be prophecies at all, but were comments on political events of his time that were enigmatically written for his own protection. Prophecies of a coming apocalypse, if one is careful to omit the date of such unglad tidings, are always correct, or at least undebunkable — they merely haven't happened yet. Halford, as Nostradamus, sings in "Visions," "only time will prove that I'm right." In other words, you can be sure that it ain't over 'til it's over.
Nostradamus is suffused with much that is familiar to those who know Priest's back catalog. How do those old Priest melodies come into a new production? "I really think that it is instinctual," he replies. "It is just part of the inbuilt way that we make our music." Upon mentioning some melodies are reminiscent of "Before The Dawn," from 1979's Hell Bent For Leather, Halford says, "Oh, my god — this is so bizarre. K.K. [Ken Downing, guitarist] and I were talking about 'Before The Dawn' just the other day. Apparently it was a hit single in Korea. We are going to Korea in a few months' time and were thinking about playing that song because it was such a successful track in Korea. How bizarre is that?"
The music may evoke Priest's prior sounds, but there are also elements of Nostradamus' life that seriously resonate with Priest's own career. Both were persecuted for their words by the powers that be. Priest's songs were denounced by the puritanical Tipper Gore-led Parents Music Resource Center (PMRC); a few years later the band was charged with causing a double-suicide attempt by two young men in Nevada (one of whom died instantly). In "Persecution," the strongest new cut, Halford could be singing about the band, or indeed heavy metal itself, not just Nostradamus: "They try to dominate/I'll be a thorn in their side." Defiantly he vows: "They will not eradicate me/Break my will or suffocate me/I will subjugate the hate/That they breed."
Separated by 500 years, the careers of both the prophet and Priest depended upon recent technological developments. Nostradamus would not have been the prognosticator known in his time and ever since had the printing press not been invented a half-century before his birth. Similarly, Priest, and indeed much of rock itself, would be impossible without electric amplification of guitars and various advances in recording-studio technology.
Although half a millennium separates us from Nostradamus' day, our times have much in common with his. Both seem to fulfill that Chinese curse: May you live in interesting times. In the 16th century, the Inquisitorial Church hunted, tortured, and killed those they believed to be heretics, which is reminiscent of the current American administration's stance toward those they deem terrorists. (Incidentally, it was the Inquisition that first developed a form of torture now called water-boarding.) Nostradamus, who was a physician, contended with the black plague; our version of nature's various revenges include HIV/AIDS and extreme weather. Sixteenth-century France was in the midst of the Hundred Years' War; today a presidential candidate projects the U.S. occupation of Iraq may well last for 100 years. And, of course, those end-time predictions are once again in vogue.
One needn't be a prophet to foresee Priest won't survive for 100 years. They nearly didn't last until now. The band had a near-death experience when Halford left in the early '90s. Going on life-support, Priest replaced their stellar frontman with a far younger and far-from-charismatic doppelganger. A dozen odd years later, his wanderlust slaked, Halford returned to the fold.
Bassist Ian Hill — another caller from Germany — has been essential to Priest's longevity. He co-founded the band with schoolmate K.K. Downing in 1970. When the original singer left, Hill got his girlfriend Sue's brother, Halford, to be Judas Priest's vocalist. On stage, anchoring the band's sound, Hill may look as if his feet were nailed to the ground, but that is definitely not because his head is lost in the clouds; he is as affable as he is sensible.
— Deena Dasein
To discover how Priest made it this far, grab the August issue of Illinois Entertainer, available throughout Chicagoland.