Hoots & Hellmouth
Schubas, Chicago
Saturday, May 31, 2008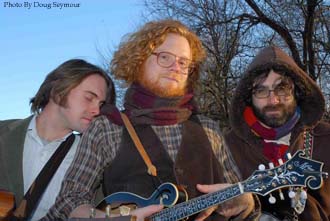 It should be a rule that if your last name is Hoots and you have a band, you must play down-home, folksy, rootsy, backporch music. Though IE currently sit on the Rules & Regulations committee of our condo association, our power to issue such a decree is limited. Pennsylvania's Hoots & Hellmouth don't require it anyway.
Sean Hoots makes it easy by following the script birth laid out for him on Hoots & Hellmouth's eponymous debut — the Hellmouth being partner Andrew "Hellmouth" Gray. Along with mandolinist Rob Berlinger and a revolving cast of backing characters, they keep things relatively simple on the album, and it certainly works in their favor on songs like "West Of Where The Sun Goes Down," "Home For Supper," and "Backwoods Don't Lie," tunes that thrive on a charming, off-the-cuff vibe and can't\-miss melodies. Hoots & Hellmouth was released on MAD Dragon Records, a Drexel University College Of Media Arts & Design experiment that allows students enrolled in the Music Industry bachelor's degree program to earn course requirements by running a real-life record label. Scholars have a hand in every aspect, including production, recording, marketing, copyrights, contracts, and distribution. Besides albums by Hoots, Andrew Lipke, and Matt Duke, MAD Dragon also released Chicago's own Redwalls' most recent effort last year.
Mike Musikanto & Sleeper Car and Bikes Will Take Us open.
– Trevor Fisher
Category: Stage Buzz, Weekly