Everest
Abbey Pub, Chicago
Monday, June 2, 2008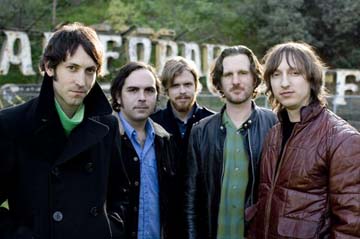 Count Neil Young as a fan. The legendary Canuck signed Everest, an L.A.-based conglomerate of disparate indie collectives, to his Vapor Records label earlier this year. The quintet sports an impressive résumé with members citing stints in Sebadoh, Earlimart, Folk Implosion, John Vanderslice, and the Watson Twins. Not a supergroup per se, but a blue-light special away from a satisfaction-guaranteed-or-you'll-get-your-money-back sticker.
Led by Russell Pollard, Everest's subdued debut, Ghost Notes, succinctly encapsulates lazy-Sunday evenings spent on the front porch in a creaky rocking chair. Recorded at Elliot Smith's New Monkey Studios, the album bears the stamp of the late singer-songwriter in the easygoing beauty whispering from the union of Pollard's vocals and Joel Graves' guitar.
Moseying along, lead single "Rebels In The Roses" trades in breezy California pop for epic Texan drama worthy of James Dean in Giant, or at the very least, a dude clad in an appropriately embroidered shirt. "Only In Your Mind" casually smolders without ever really igniting – but if the song was a s'more the marshmallow middle would still rate satisfactory on the gooeyness scale, while "Stumble Waltz" builds like rising gas prices.
Despite a track listing yearning for more oomph, Ghost Notes promises a smooth ride. Just don't use it as a soundtrack on the way to work without a tardy slip handy.
David Singer and Gidgets Ga Ga open.
— Janine Schaults
Category: Stage Buzz, Weekly