Adele
Martyrs', Chicago
Saturday, May 31, 2008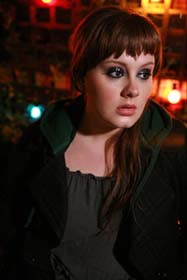 It's a bit jarring when a pasty British teenager opens her mouth and out comes the whopping voice of an old-time soul diva.
Adele is one of a handful of singers picking up acclaim across the pond and then soliciting their wares in the States. Leona Lewis, Duffy, and, of course, Amy Winehouse all incorporate R&B and neo-soul posturing into their wildly popular recordings. Adele continues the trend on her debut, 19 (Columbia/XL), with more heart than Lewis and far less drama than Winehouse.
For 20-year-old Adele Adkins, the album reflects the fruits and labors of adolescent love and one ill-fated dalliance in particular.
On the Mark Ronson-produced "Cold Shoulder" Adele sings, "You shower me with words made of knives/Whenever you look at me I wish I was her" to a frenetic backdrop of scenery left over from Winehouse's sessions. And a surprisingly rote, cold version of Bob Dylan's "Make You Feel My Love" seems out of place — hell, even Garth Brooks injected more misty-eyed feeling into his crack at the blubbery tune.
The Brit School graduate fares better when the arrangements take a back seat to her thundering vocals, especially "Hometown Glory" and "Melt My Heart To Stone." The first single, "Chasing Pavements" deserves to push Lewis' "Bleeding Love" off a precipice.
Joss Stone — eat your heart out.
— Janine Schaults
Category: Stage Buzz, Weekly