Mudhoney
Reggie's, Chicago
Friday, May 30, 2008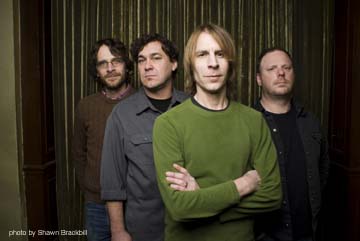 Revisionism can be a beautiful thing: After Metallica and Megadeth blew their wads in the '90s, rock critics swore they always loved Slayer. Kurt Cobain and Layne Staley are long dead, Chris Cornell is a laughing stock, and Pearl Jam have joined the David Bowie-curated "best album since (blank)" club, so it's time to hitch our wagons to Mudhoney.
Like Slayer, Mudhoney last hit a rut when their peers were sky high; South Of Heaven and Seasons In The Abyss are analogous to Piece Of Cake and My Brother The Cow — substandard discs nevertheless featuring some essential tracks. Because of that unfortunate timing, the mainstream wasn't really around to praise Divine Intervention and Tomorrow Hits Today, meaning a lot of today's hullabaloo roughly equates to insults.
Ten years after Tomorrow, Mudhoney not only offer The Lucky Ones, but have Sub Pop behind them with a 20th-anniversary edition of Superfuzz/Bigmuff. The new album rambles along in their Stooges/Sonics idiom, a deceptively tight ruckus full of Mark Arm's sarcastic outrage. The title track, in particular, finds him bemoaning Mudhoney's longevity, mawkishly honoring Seattle's fallen — the "lucky." The double-disc reissue reinforces the feeling Mudhoney knew themselves before Nirvana did, at least if you're to compare Superfuzz/Bigmuff (a six-song EP in '88, re-released with early singles in '90) and Bleach. "Touch Me I'm Sick," "In 'N' Out Of Grace," "Here Comes Sickness," and "Sweet Young Thing (Ain't Sweet No More)" gripped Northwest bands by the scrotum, and the nail marks are still there. Just like Mudhoney. And Slayer, too.
Easy Action and The Fake Fictions open.
— Steve Forstneger
Click here to download "In 'N' Out Of Grace," live in Berlin.
Category: Stage Buzz, Weekly