My My My
Elbo Room, Chicago
Saturday, December 15, 2007
How many times does Craigslist deliver a happy ending? For Russell Baylin, the Web site with everything issued the Addison, Illinois singer/guitarist four like-minded musicians.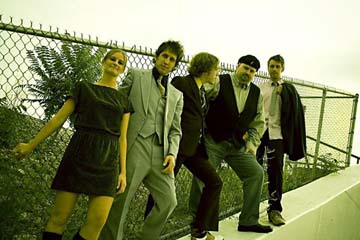 Despite forming only last spring, My My My congealed quickly and transformed Baylin's singular vision into a full-fledged collaborative effort on the band's latest self-released project, Conjugation Nation. XRT's Richard Milne is already a fan, showcasing the group's bouncy single, "Chemistry Is For Lovers," on his "Local Anesthetic" program last summer.
The album's eight tracks follow the single's pattern — incorporating fist-pumping, foot-tapping, piano-driven pop into a swirl of chirping vocals from Baylin and Sarah Snow. The boy/girl dichotomy adds depth to the proceedings, especially on "Stallion" — a whopper of a song containing an underlying melody eerily reminiscent of the Dave Matthews Band's "Grey Street." The rhythm section of drummer Bill Skafish and bassist John Roper projects a chill, easy-going flair while cementing their position as the band's backbone on songs such as "Sit Back (Hey)" and the infectious title track. Theo Blair's keyboards spice up the soulful "If I Was A Beggar," and add emotive flourishes to "Sadder At The Seams." Baylin's vocals hold it all together and it's easy to pinpoint his influences, most notably Jeff Buckley. Baylin doesn't kid himself that he can reach the ceiling of Buckley's range, but gets the passion right.
Last Place You Look, Project Ultra, and Lapush open. It Is What It Is headline.
— Janine Schaults
Click here to stream some My My My.
Category: Stage Buzz, Weekly