Fair To Midland
Austin's, Libertyville
Saturday, December 15, 2007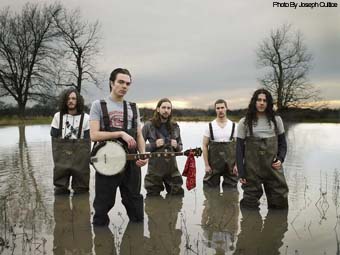 Fair To Midland are oddballs, at least by major-label standards. Maybe not Bjork or Captain Beefheart odd, but certainly more adventurous than a bulk of heavy music released nowadays by majors. In fact when the band were shopping their demo for a record deal, they didn't even bother with the big boys, assuming their music was too "weird" for that scene.
Ironically, Fables From A Mayfly: What I Tell You Three Times Is True wound up getting released by a major label anyway, thanks to fellow eccentric and System Of A Down frontman Serj Tankian, who signed FTM to his Serjical Strike label, a Universal imprint. The band (who call tiny Texas town Sulphur Springs home) don't sound like System Of A Down, but it's easy to hear why Tankian was interested. Fair To Midland are heavy without being weighed down by the anchor of "being heavy," Darroh Sudderth is a distinctly versatile frontman capable of going from gut-punch to cloud pierce, and the group have sweet spots for both epic prog and catchy pop. You'll see Tool, Mars Volta, or Coheed And Cambria comparisons, and they're all accurate in some way, but truth is, Tool don't have these hooks, Mars Volta don't have these riffs, and Coheed And Cambria don't have this charisma.
Fair To Midland's stop at Austin's is part of their first-ever U.S. headlining tour. Cinder Road and Resident Hero open.
– Trevor Fisher
Click here for streaming samples of Fables From A Mayfly.
Category: Stage Buzz, Weekly