Michael McDonald
Chicago Theatre, Chicago
Thursday, December 6, 2007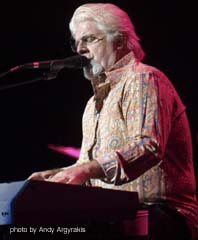 As a man with many artistic personas, it's not always easy to guess exactly how Michael McDonald will put together a set list. Based on his latest CD, Through the Many Winters, A Christmas Album, seasonal offerings were a sure-fire bet. They were presented in ample amounts with varying degrees of connectivity, but the singer-songwriter also pulled out a handful of non-holiday solo selections and a few tributes to the Motown-era.
But no matter how many different career angles he visits, the most enduring selections come from days with the Doobie Brothers, which yielded the most rapt responses of the evening.
These days the pianist looks more like a cross between a retired hippie and Santa Claus than a long-haired classic rock innovator, but despite the more subdued digs, he hasn't lost a single vocal step. If anything, those soulfully rich pipes have gained luster with age, allowing infectious cuts such as his own "Sweet Freedom" and "I Keep Forgettin' (Every Time You're Near)" or the band's "Minute By Minute" to adapt fresh dimensions, thanks in part to six jazz-splashed backers. That tastefully refined direction also helped carry an updated arrangement of the Doobies' "It Keeps You Runnin'" to extend itself into gospel-infused territories, while showcasing McDonald's deft improvisation on the ivories.
It's too bad the entire concert couldn't command similar attention, which came at the expense of spending a significant amount of time on holiday material. Though the show was clearly billed as supporting Yuletide reflections, dedicating half of the two-hour event to those tunes turned tiresome. Granted, McDonald steered away from more obvious seasonal songs in favor of originals, but they not only lacked the zest of his '70s and '80s outpourings, but were nestled deep into adult contemporary mediocrity. "On This Night" was a soggy ballad at best, and "Through The Many Winters" (co-written with his wife) was a Hallmark greeting card at its most clichéd (though it fit hand in glove with that store serving as the project's exclusive distributor).
The Kenny Loggins/David Foster penned "On Christmas Morning" did a slightly better job of summarizing a family's genuine feelings during the festive day, but the track also lacked the punch of McDonald's glory years. Though the Cajun-sprinkled "Christmas On The Bayou" possessed a more potent pulse, its Southern-streaked seasoning seemed out of place for the blue-eyed soul crooner, perhaps better suited for John Fogerty fronting Creedence Clearwater Revival. Instead, McDonald was much better wrapping his swelling piano sounds around Marvin Gaye's "I Heard It Through The Grapevine," Ashford & Simpson's "Ain't Nothing Like The Real Thing," and Smokey Robinson's "I Second That Emotion."
Yet the troubadour was clearly in his truest element when delivering more of those obligatory oldies, which included a home stretch rendition of "What A Fool Believes" and a grand finale of "Takin' It To The Streets." The latter benefited from the soaring harmonies of a female background singer and drummer, while McDonald had no problem successfully reaching the track's remarkably high register. Even at the end of 2007, his voice endures as an unforgettable instrument, but it's much better suited to retro recreations than sleepy sounds of the season.
— Andy Argyrakis
Category: Live Reviews, Weekly