Patterson Hood
Empty Bottle, Chicago
Saturday, December 8, 2007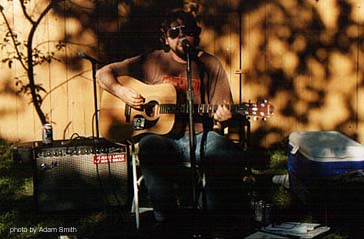 Despite the growing popularity of his main gig fronting Drive-By Truckers, Patterson Hood has struggled to keep his solo career on track. Trying to will the (eventually) forthcoming Murdering Oscar (And Other Love Songs) into existance, he skipped a friend's wedding to promo it during the second of two shows at Empty Bottle.
Hood's first solo foray, Killers And Stars, wasn't exactly rushed from his kitchen to New West Records' distributor. Oscar has likewise had to contend with the Truckers' endless tour cycle as well as maybe needing to sacrifice some songs after Jason Isbell departed from the motherband. But to look at Hood on Saturday night (in a stage setup making most local bands look theatric), there is no hurry: Buy a shot, sing along, and the record will come eventually.
For such a relaxed countenance, Hood put on a very coherent show. He complemented his sparse solo material with dark corners from the Truckers' catalog, dusting off nuggets that have been marginalized due to the band's volumnous output. "Dead, Drunk & Naked" trotted at its usual pace, though "Sinkhole" and "My Sweet Annette" were slowed to menacing laments.
Judging from the debuted material, Murdering Oscar will be just as emotionally burdensome as Killers And Stars; the title track's narrator operates behind a modified morality ("I killed Oscar/and I forgave me"). "The Opening Act" (from DBT's forthcoming Brighter Than Creation's Dark) and "Back Of The Bible" lock into the desperation Hood felt years ago fronting numerous lineups of a band going nowhere.
Fortunately Hood has a sense of humor and Saturday wasn't nearly as disconsolate as the songs would make it seem. His playfulness rang through the uncomfortable dining experiences with "Margo And Harold" and he got downright rare with "A Little Randy," which he contributed to a movie soundtrack no one in the audience seemed to know existed. Chicago's Kelly Hogan appeared for a duet on Oldham/Penn's "I'm Your Puppet," returning a favor after Hood invaded her band's late Friday set at Schubas.
Also fortunate is the fact Hood can't not end on an anthemic note. He smashed a brace of "Bulldozers And Dirt" and the somewhat rare "Angels And Fuselage," and though he sang "I'm scared shitless of what's coming next," nobody else was. They just wanted to know when to expect it.
— Steve Forstneger
Category: Live Reviews, Weekly