Keith Urban Does (What) iLike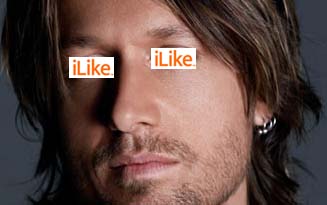 Further shrinking the chasm separating music fans from their favorite artists, iLike's partnership with New Zealand-born Keith Urban hopes to bring exclusive behind-the-scenes video footage directly to fans through the Web. To celebrate, Urban serenaded an intimate gathering in the bowels of Rosemont's Allstate Arena hours before the country superstar's performance Friday, November 16th.
As the Web's leading social music service and the main music application for social networking site Facebook.com, iLike boasts 15-million registered users, according to iLike's CEO Ali Partovi. Now the 300,000 registered members of Urban's iLike community will have access to video messages the singer-songwriter posts himself, in addition to video fans digitally shoot at concerts and other Urban-centric events to share with others throughout the world. "With the least amount of effort, Keith can reach the most fans," Partovi said
The partnership seemed like a natural choice for Urban. "It appealed to me on a lot of levels. Firstly, because of the relationship I have with my audience. I think country music in general is built on that kind of rapport and relationship that artists have with their audience," Urban said before performing an acoustic rendition of "Once In A Lifetime" for seven lucky female fans in a makeshift area decorated like an old MTV "Unplugged" set.
"We've also started doing a lot of video documentary as well after each show . . . my videographer will do a little video message for everybody to thank everyone for coming out. It keeps everything in real time and keeps everybody really connected with what goes on backstage as well, which is usually pretty lame. But it gives us the opportunity to speak directly to everybody."
Armed with digital recording devices, the seven fans were sent on a mission to capture as much Urban as possible during this one-song sneak preview and that night's concert to share with iLike users.
University Of Wisconsin Oshkosh students Rachel Jasinski and Cara Bischlei left math class and made the three-hour trek to Rosemont to see Urban. Bishclei, 20, found out the previous afternoon she was selected to take part in the promotion and quickly recruited Jasinksi, 20, to join her. "I saw Ali's [Partovi] posting — he posted on Keith Urban's fan page and said whoever's available to see Keith in Chicago, it's a private performance, tell me how much you like him and I got picked," Bischlei said. "I didn't think it was real. I had to e-mail the company. Now it just hit me that it's real."
— Janine Schaults