Keith Urban
Allstate Arena, Rosemont
Friday, November 16, 2007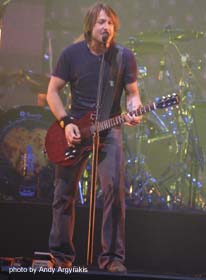 He may be A-list tabloid fodder these days thanks to his highly publicized marriage to Nicole Kidman and last year's round of rehab, but deep down Keith Urban is still the same Australian-bred hunk who took Nashville by storm 10 years ago with his unconventional interpretation of the country genre.
No, he's not a descendent of Johnny Cash or George Jones, nor does he sport the T-shirt and cowboy hat casualness of Tim McGraw, but the singer successfully incorporates Southern style into slick pop and good ol' fashioned rock 'n' roll.
It may be a formula to make purists in any of those categories scoff, but one that has sent the superstar bouncing between a variety of charts and selling out gargantuan venues like the Allstate Arena. And just to prove there was nothing conventional about his so-called country classification, Urban brought a massive, Aerosmith-styled stage (complete with a catwalk), plus warmed up the audience with a club DJ who spun everything from old-school Prince and Michael Jackson to the more demographically suitable John Mellencamp before walking out to the New Radicals' "You Get What You Give."
After all the build-up, Urban kept the momentum going with the breezy, carpe diem appeal of "Once In A Lifetime." With electric guitar in hand, he kicked the breezy tune up with some additional voltage, backed by a five-piece band (including a black-tie clad banjo player who could've come straight out of Interpol) and "the world's largest HDTV" to amplify all the action behind them. Throughout that tune and the seven other subsequent selections (including the solo acoustic "Raining On Sunday" and the full-band countrypolitan blasts of "Stupid Boy") the troupe split its time throughout a traditional stage and a lengthy ramp.
Yet the show crested when the sextet walked to the ramp's very end with instruments in hand to give the venue's back half a closer look. The stripped-down environment, free of the monotonous production gloss, helped showcase each players' deft finger-pickin' and percussion abilities, while Urban proved to be quite a competent strummer and brawny vocalist during "You're My Better Half" and "Making Memories Of Us."
But no matter how hard Urban tried to be all things to all people, he fell prone to cliché and down-right cheesiness. A classic rock medley (including Lynyrd Skynyrd's "Sweet Home Alabama," Aerosmith's "Walk This Way," and Led Zeppelin's "Stairway To Heaven," to name a few) was a cheap card from the bar-band deck. Though he switched from the six-string to the ivories come the ballad "Tonight I Wanna Cry," it was pure schmaltz about a broken heart that has been said better countless times before.
But even with a few poor choices, there was no denying Urban's ability to transcend boundaries and put on a country-flavored concert that was just as enormous as any arena rock event on the road these days, not to mention that pretty much every tune presented was a single on some format, aptly summarized on the recently complied Greatest Hits (Capitol Nashville). Call it country, homogenized honky-tonk, Southern-flavored pop, or whatever like-minded adjective, but even after 10 years in the American game, Urban still knows how to entertain.
— Andy Argyrakis
Category: Live Reviews, Weekly