Tinariwen, Mamadou Diabate
Old Town School Of Folk Music, Chicago
Saturday, November 17, 2007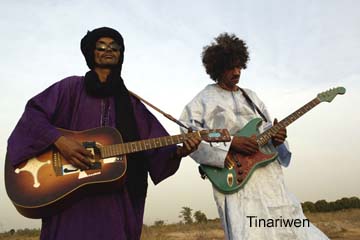 Providing a hypnotic glimpse of Mali's annual Festival Of The Desert, Malian musicians Tinariwen and Mamadou Diabate ignited a mini celebration of dancing and music. Two sold-out shows proved outstanding music easily overcomes language and cultural barriers. Very little English was spoken, but the soul-searing rhythms needed no translation.
"Welcome to the desert tonight," said Ibrahim Ag Alhabib, as his band, in swirling robes and turbans, took the stage. They slammed right into "Cler Achel" from their recent CD, Aman Iman: Water Is Life (World Village). The dusty blues-guitar rhythms, handclaps, and funky backbeat quickly moved the audience to their feet while Alhabib's mournful singing illustrated the tune's focus of Toureg displacement and homesickness.
Rock rebels in the purest sense, Tinariwen are former guerilla fighters who give voice to the nomadic Toureg's fight against oppression and isolation in West African Mali and Niger. They first struggled against French colonialists during the 1800s and then the Malian government during bloody rebellions in the 1960s and 1990s. The resistance movement continues today and the 10-member band document it with tunes that recall both their Led Zepplin and Santana influences as well as their Saharan heritage.
Crackling with a fierce rap, "Ahimana" chronicled the hardships of life in exile over a traditional Toureg beat. "Tamatant Tilay" urged Tuaregs to keep fighting and not fear death over a rolling desert rhythm. Normally featuring six guitarists, this performance only included three but the sound of a thick wall of electric guitars crossed with African percussion and wailing Toureg soul remained intact.
Master kora player Mamadou Diabate opened with a set showcasing his skill on the 21-string harp. Descended from the ancient jali or griot clan, Diabate traces his lineage back seven centuries, when celebrated king Sunyata Keita consolidated the Malian empire. His family has been collecting historic tales, poetry, and kora tunes ever since, many of which he played. Towering behind his kora in an indigo batik, Diabate played "Diabara," a song that was played when warriors went off to battle and didn't expect to return. Chanting forcefully with his speedy fingers whirling across the strings, the gliding rhythms soothed as well as excited the crowd.
— Rosalind Cummings-Yeates
Category: Live Reviews, Weekly