Consortium
Red Line Tap, Chicago
Saturday, November 24, 2007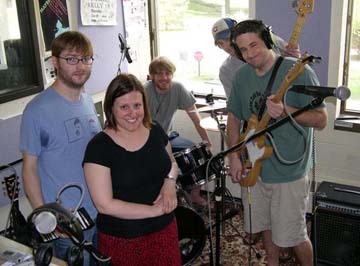 Eschewing the limitations of their sophomore effort — a concept album entitled Potomac And Shenandoah that tackled the conflict between secularism and religion through the lives of two sisters — local quintet Consortium simplify things on their third self-release. Thank God.
Sloganeers & Moment Junkies thickly lays on the raggle taggle Americana, coupled with frontman and songwriter Tom Winters' literary-caliber lyrics. If every line in Bob Dylan's "A Hard Rain's A-Gonna Fall" is the start of a whole new song, then the 11 tracks on this record each begin a novel.
"My Son, The Museum Curator" challenges the bombast of "Clocks"-era Coldplay, but without a soaring falsetto to balance the hammering keyboards, Winters' limited vocal range just grates. A habit of inserting a British lilt into his vocals veers on pretension — he's much better at tenderness (that is, when he allows that facet of his repertoire to shine through). Fortunately, "Running In Place (Waiting For The Scenery To Change)" does just that, sounding like an outtake from Beck's 2002 sob fest Sea Change. "Golden Boy" follows suit with a percussively Celtic flare. The go-go dancing cages come out for the aptly psychedelic-titled "Alpha Moonbase! On The Air! Live!" where the band make like Strawberry Alarm Clock on "Rowan & Martin's Laugh-In." Sock it to me!
Joined by Simon Hunt (keyboards, melodica), Pat Winters (bass), Kiri Klawitter (vocals), and Seth Weidmann (drums), Winters puts forth a stalwart effort, especially on the rambunctiously crescendoing title track. As Consortium take themselves less and less seriously, the music increases in vitality and likeability.
Lost Ghost Lounge open.
— Janine Schaults
Category: Stage Buzz, Weekly